With a few setbacks, Apple is almost continuously expanding and updating its global retail chain, now over 500 locations. Here's the company's evolution from 2018 through 2020 so far, updated on September 7, with the opening of the Apple Cherry Hill store.
February 25, 2021
Apple Fayette Mall in Lexington, Kentucky, has closed pending a move to a nearby location at The Summit at Fritz Farm. The new store is slated to open on March 1 at 11 a.m.
September 7, 2020
The Apple Cherry Hill store will open on September 10 after moving into a larger space within the same mall. The new store is around 10,000 square feet and will feature modern Apple amenities like Avenue displays and a public forum.
The Apple Store retail page has a message that invites customers to "come see us at our new location on September 10 at 11:00am."
August 24, 2020
Apple has announced that the Marina Bay Sands store in Singapore will be open "soon."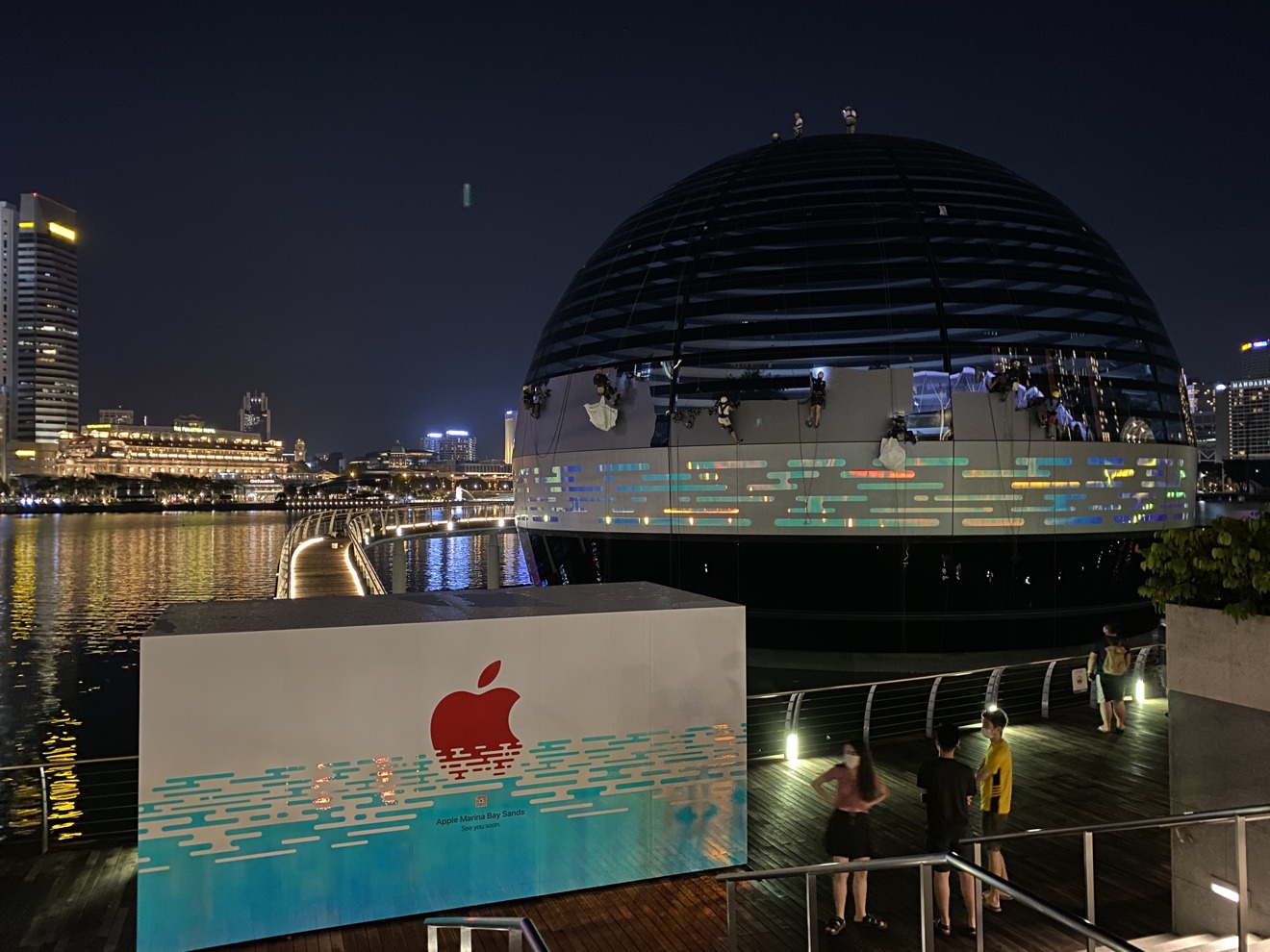 Apple Marina Bay Sands
"Apple Marina Bay Sands is coming soon to Singapore, celebrating the first Apple store in the world that sits on the water," an Apple spokesperson said in a statement. "As with every Apple store around the world, Apple Marina Bay Sands will bring the best of Apple to our customers, at an iconic location in Singapore. We can't wait to see you soon."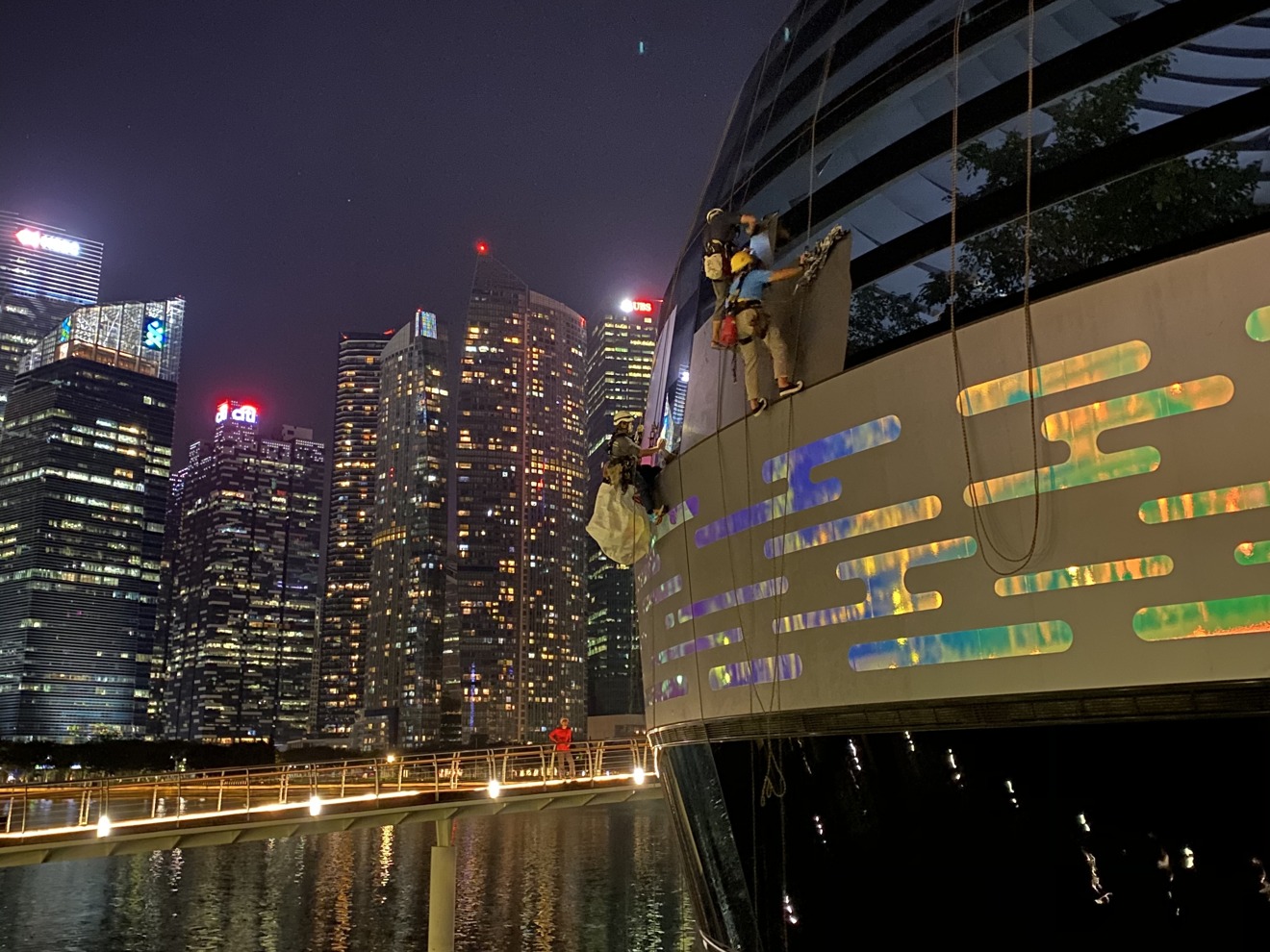 Designed by Foster + Partners
The store is Apple's third location in Singapore.
August 19, 2020
Vancouver's Oakridge Center will begin major renovations, including a significant upgrade for the on-site Apple Store, Apple Oakridge Center. The shopping mall plans to close its doors at the end of September until 2024, as the mall undergoes a complete overhaul. When the mall reopens, it will serve as a mixed-use "city center," and be the most extensive development in the city's history.
The Apple Store will be redesigned as a 10,000 square foot space located alongside luxury brand stores in the mall's "lux run." The store is still currently open and will remain so until September 2020.
February 29, 2020
Canada's Apple Fairview, located in the CF Fairview Mall, will reopen in a larger storefront on February 29 at 9:30a.m. The new space has been created by merging two stores together, creating a store nearly twice the size as it's current location, according to 9to5Mac.
Oct 24, 2019
Apple Amsterdam will reopen its doors on October 24 following months of renovation. From October 24 to November 21, Apple Amsterdam will host a special session called "Beeld in beweging," or "Image in motion." Talents from the film industry will help participants create trailers, soundtracks, animations, and more. The session will be done in collaboration with Eye Filmmuseum.
Oct. 12, 2019
Portland, Maine's Apple Maine Mall reopens at their new location on Saturday, October 12 at 10:00am.
Sept. 28, 2019
Apple Old Orchard has reopened in a new location after serving the previous location for 15 years, according to 9to5mac. The store features a revolving door, somewhat uncommon for Apple Stores, but likely was used due to the cooler climate of Illinois. The store also features planked overhang and natural stone walls, reflecting many of the elements in many of Apple's outdoor locations.
Apple Columbia, based in Columbia, Maryland, has completed renovations. The new storefront is roughly 8000 square feet and boasts the same glass front as many other renovations have received.
Apple Fukuoka Tenjin will open in a new location on Sept. 28, according to Apple's Japanese website. The new store takes on a next-generation design made from stone, glass and wood, and includes modern amenities like a Genius Grove, Accessories Avenue and more.
Also opening on the 28th is Apple Shanghai IAMM, which boasts a remodeled interior that brings the location up to date with more recent renovations.
Sept. 27, 2019
Apple's first Latin America high profile flagship store, Apple Antara, will open in Mexico City on September 27. The store will be located near Antara Fashion Hall in the Polanco district of Ciudad de Mexico. It is a single-story structure that features a pavilion design, large sliding doors, a curved glass exterior, and limestone walls.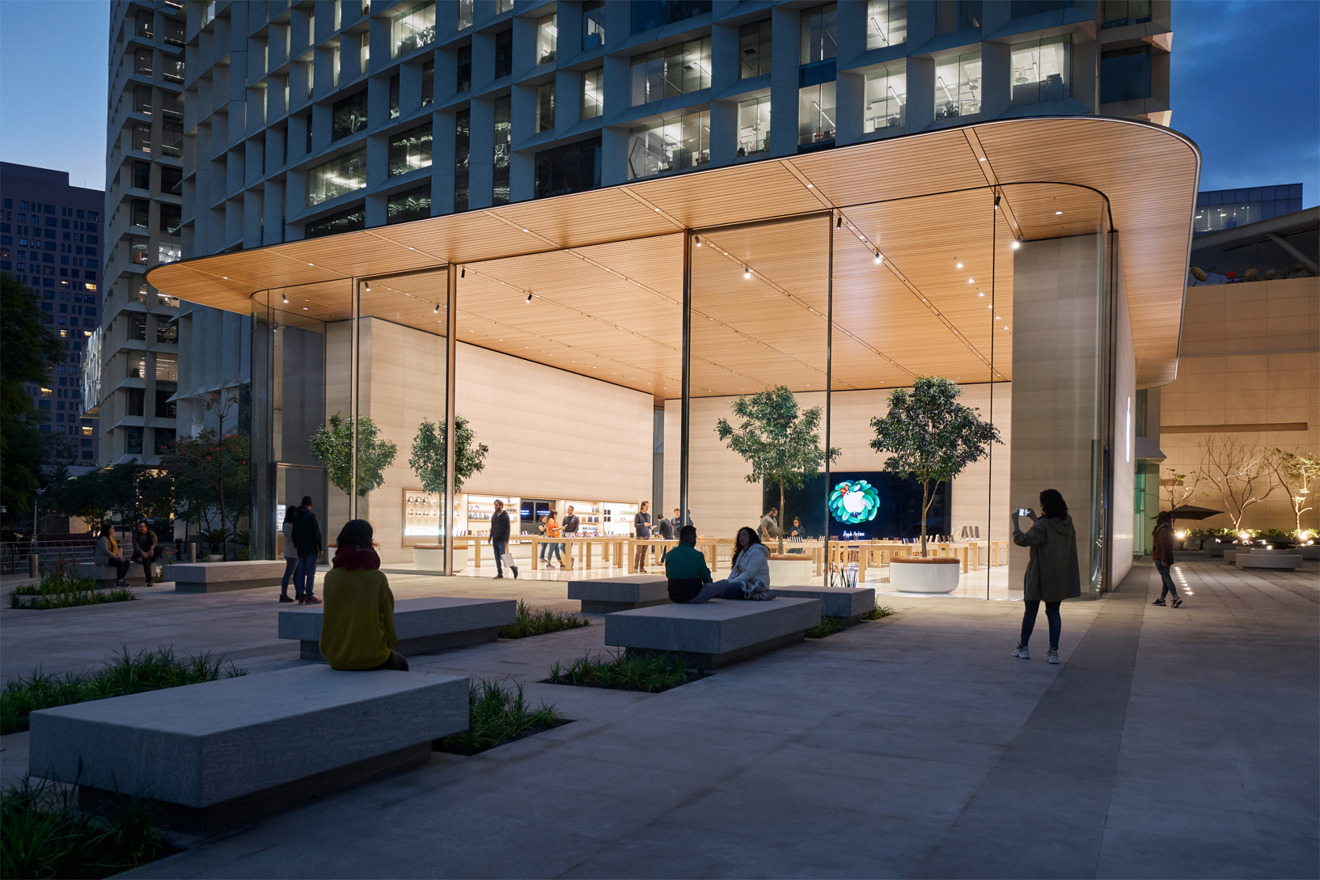 Apple Antara
"We are thrilled to open our stunning new store in central Mexico City and now welcome even more customers to Apple across this bustling city," said Deirdre O'Brien, Apple's senior vice president of Retail + People. Our amazing team can't wait to welcome everyone to Apple Antara for the first time on Friday."
Sept. 20, 2019
Apple Fifth Avenue is nearing the end of its remodel and will reopen at 8:00 a.m. on September 20 in celebration of the launch of the iPhone 11. The underground store has been expanded, new circular skylights have been added, and the iconic glass cube has been covered in an iridescent film.
After a five month renovation, Apple Omotesando will reopen on September 20. The renovated store will feature a "green curtain," a popular Japanese method that involves growing a climbing vegetable on the outside of a building. The ultimate goal of a green curtain is to save energy by keeping buildings cool in the summer.
Apple Bridgewater in New Jersey has received significant renovations and reopened on September 20. Two individual storefronts were merged together to create a larger floorspace. The facade of the store has been significantly widened as well.
Houston-based Apple Highland Village has been renovated and reopened on September 20. The store received a stand-alone video wall, new display shelving, and a forum for Today at Apple sessions.
Sept. 14, 2019
Apple Oxmoor, located in Louisville, Kentucky, has moved to a different part of the Oxmoor Center mall after the old location closed at the end of the day on Friday, September 13. The newly constructed store is roughly two-and-a-half times larger than the previous store in hopes of better accommodating customers, as previously reported by WDRB.
The new Apple Oxmoor store opened at 10am, with its first in-store sessions including a Photo Lab for Kids, covering how to take fun family portraits. The outlet now features its own courtyard and a Today at Apple video wall, but the main highlight is its courtyard, built on the exterior of the mall.
A second opening took place at the Apple The Woodlands store in The Woodlands, Texas, which opened its doors at 10am. Featuring a wide storefront and a large Today at Apple video wall, the store resembles a more typical mall-style renovation.
First-day Today at Apple sessions at that store included a Music Lab, Getting Started with Swift Playgrounds, and a Design Lab with Foster + Partners, a long-term architectural partner of Apple's, on how to draw a treehouse.
Sept. 6, 2019
Apple Altamonte in Florida has reopened after an extensive renovation that brings the outlet in line with other "Apple Store 2.0" designs. Special store hours were updated earlier in the week due to Hurricane Dorian, with the initial Sept. 5 grand re-opening pushed back to Sept. 6.
August 25, 2019
Teased by Apple in July, the Apple Marunouchi outlet's store in Tokyo, Japan's page has been updated with a notice that it will open up to the public on September 7 at 10am.

The site has also been updated with a new wallpaper and animation that uses a four-line motif, which has previously been used as a design identity for the store. For the launch, Today at Apple sessions will feature local artists under the banner "Tokyo Creative Guild," including lessons on pop art, commercial jingle creation, and other music.
August 21, 2019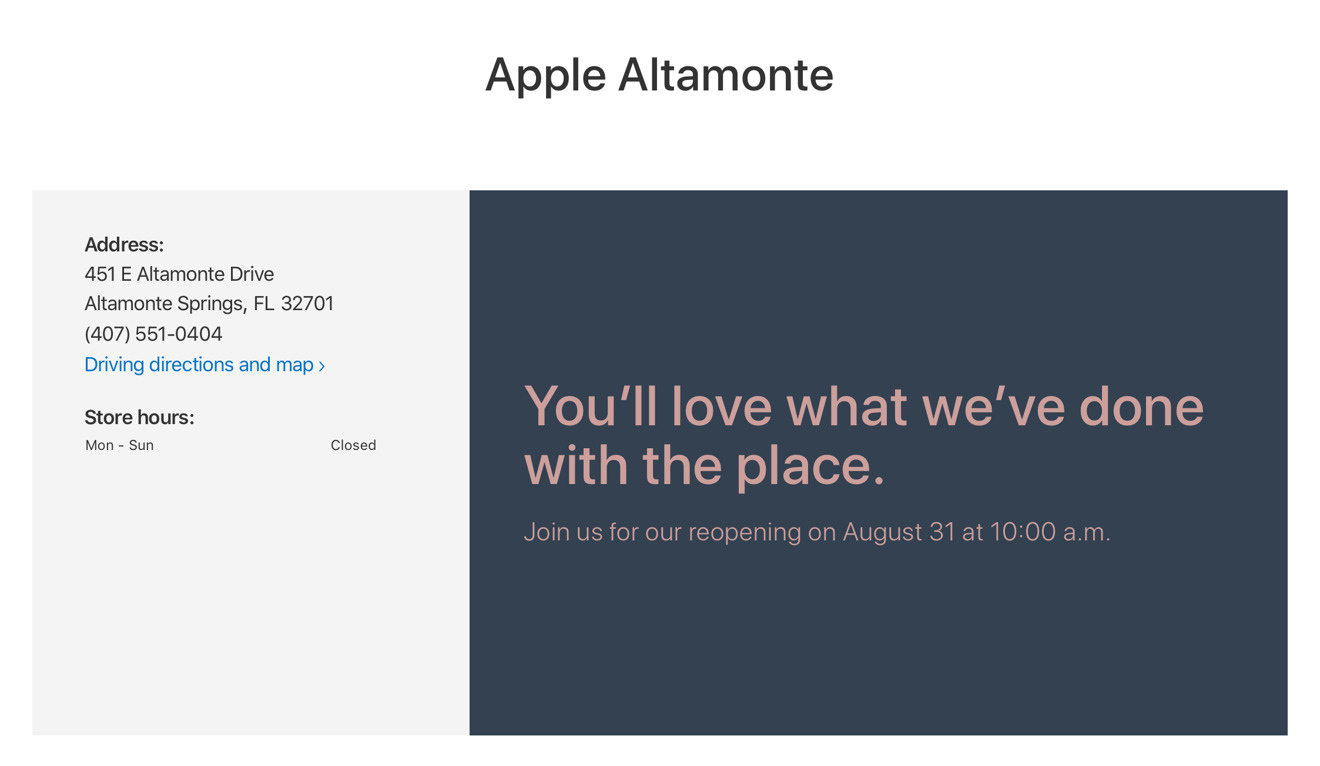 After a very long closure, the Altamonte Springs store in Florida is set to re-open on August 31. The renovation is in line with Apple's newer locations, and involves merging two retail locations together into a much larger venue.
August 16, 2019
The Apple Store at Sherway Gardens, Toronto has completed its refurbishment, updating the decor with a new 8K-resolution video wall, which will be employed for Today at Apple sessions.
August 15, 2019
Apple's Apple Bahnhofstrasse in Zurich, Switzerland is moving. The existing venue is closing for reasons unknown, and moving to the more historical, but smaller, Rennweg 43 location on August 31, according to MacPrime reader reports.
Additionally, following a closure in September 2018, Apple's Waterside Shops in Florida is reopening on August 24. The redesign of the store brings the location up to Apple's new design standard with the enormous video wall and an enhanced session area.
July 29, 2019
Apple's Aventura Mall store will open on August 10. The store will feature an ampitheater with leather seating, a "Genius Grove" featuring local tropical trees, and an outdoor public garden.
Apple's senior director of Apple retail design Chris Brathwaite told the Miami Herald that the store is "consistent with the marine climate and classic mid-century design of the region."
July 20, 2019
Apple Hillsdale in San Mateo, Calif. is on the verge of relocating to a larger space in the mall's upcoming North Block development. The North Block is replacing a former Sears, and should incorporate not just Apple but various other stores and restaurants, plus a movie theater. Beyond having more room Apple will also sit outdoors, and presumably employ its latest retail aesthetics.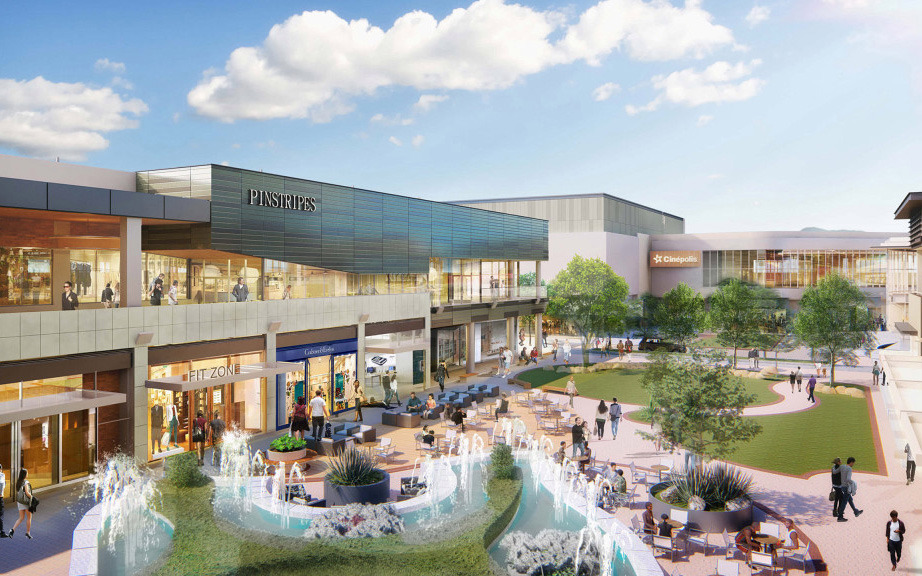 A concept rendering of the North Block. Apple could occupy multiple stalls for the space it needs.
The North Block is scheduled to open sometime late this fall. Whenever possible, Apple tends to launch stores before Black Friday shopping in November.
July 19, 2019
The long-time Apple tipsters at Macotakara believe that there is a new Apple store under construction in the Mitsubishi building in Japan. The venue suggests that fixtures on the outside of the building resemble the iPad Pro, and the entire structure that would house the establishment is clad with Apple's limestone similar to that used in other stores.
Construction site of a possible Apple store in the Mitsubishi building in Japan
July 12, 2019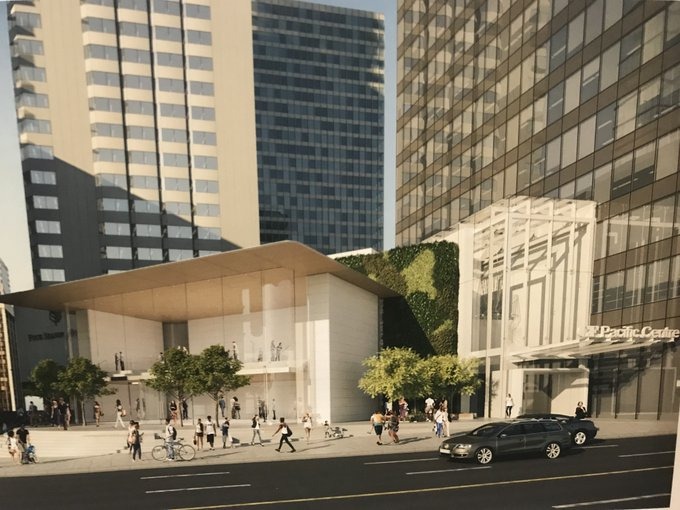 Vancouver, Canada's Development Permit Board has approved redevelopment at the Pacific Centre mall, where Apple is expected to open a new outward-facing store, according to Business in Vancouver. To cope with prior objections the overhaul will include a less prominent vegetation wall and a different mall entrance. The plaza in front of the store should include more seating and planting than originally planned, as well as better flow for foot traffic.
It's uncertain when the store might open.
July 11, 2019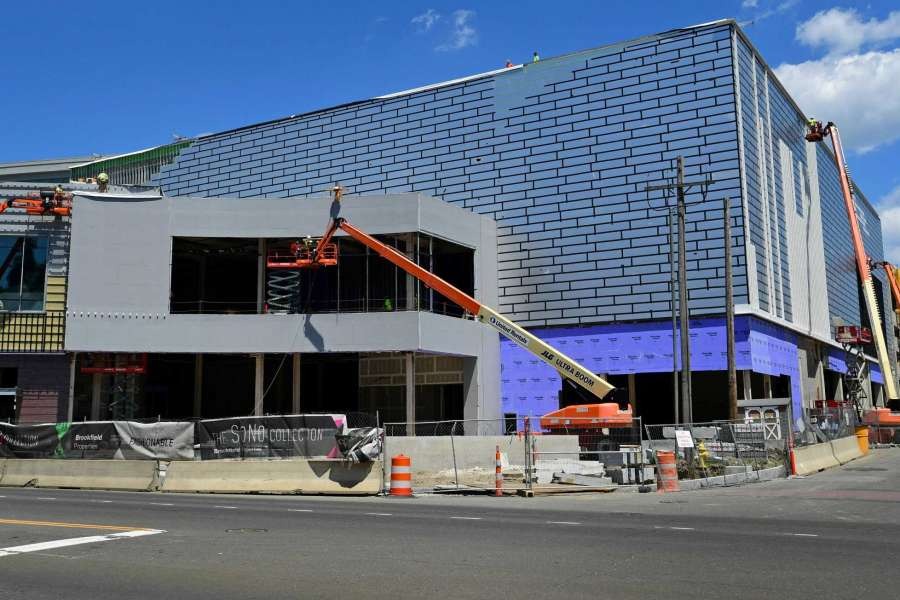 Image Credit: Erik Trautmann / Hearst Connecticut Media
Apple will be one of the first tenants of the SoNo Collection mall, opening in Norwalk, Conn. this October, according to CTInsider. The company submitted an application in June, and will occupy 8,401 square feet.
There are several Apple stores in Connecticut, the next closest ones being Apple Stamford and Apple Trumbull.
July 9, 2019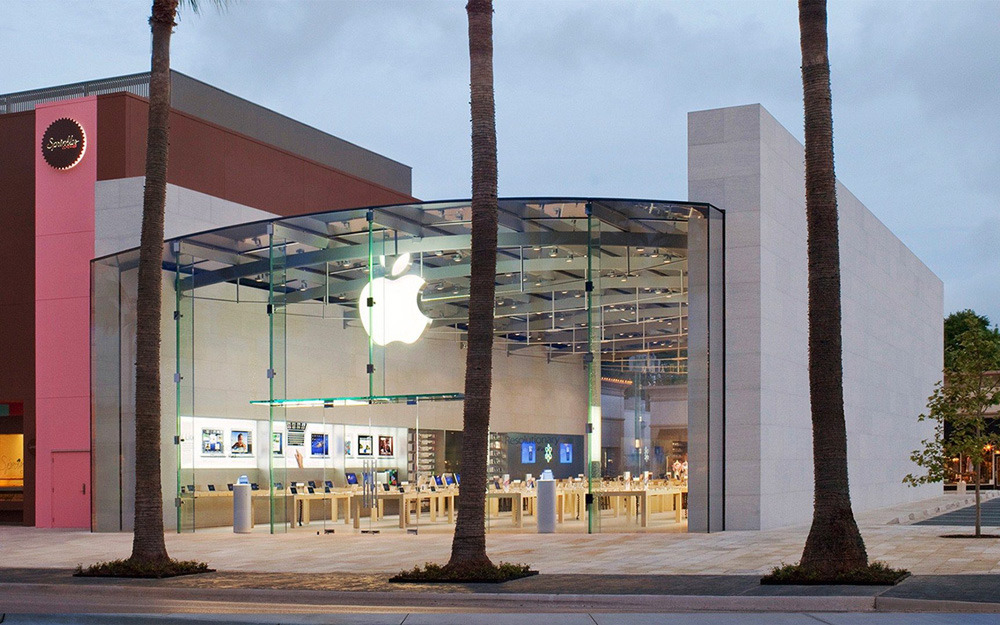 Apple Highland Village, before renovations.
Houston's Highland Village location on Westheimer Road is temporarily closing for renovations starting July 28. The shop will presumably be changed to fit Apple's modern design aesthetics, including the addition of a video wall.
There are several other stores in the Houston area, including Houston Galleria, which is within biking or even walking distance.
June 27, 2019
Set to become one of three stores serving Singapore, Apple has confirmed it will be opening an outlet within Jewel Changi Airport on July 13. News of the store first surfaced in March, with it being constructed at the same time as another at Marina Bay Sands.
June 20, 2019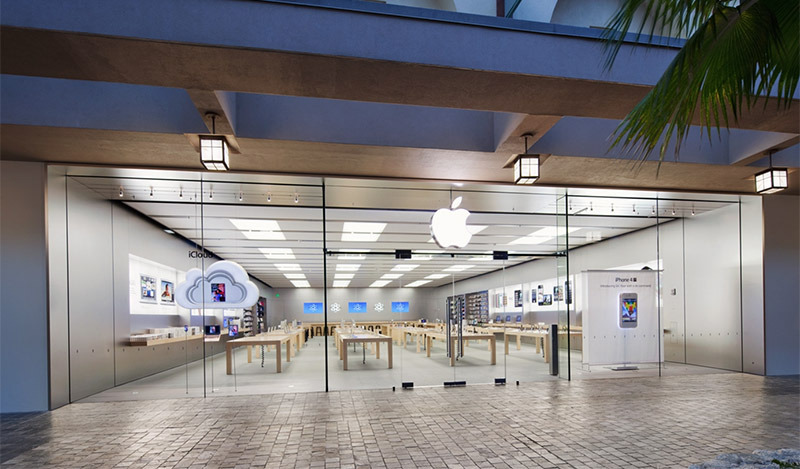 Apple is due to reopen its outlet in Honolulu's Ala Moana Shopping Center on June 21 following a round of renovations. The company sent out email notifications inviting past customers to experience new Today at Apple sessions at the remodeled store, located in the world's largest open-air mall.
June 15, 2019
OliverMcMillan and Spectrum Emery in conjunction with construction firm Skanska are continuing work on Nashville's Fifth and Broadway space, still expected to be the home of an Apple store. The renovated center that the expected store will occupy will be home to 200,000 square feet of retail and entertainment, as well as a 34-story apartment complex.
Neither Apple nor the firms involved in construction have commented on the matter, but as with the April 2 report, the Nashville Post claims to have confirmed the location.
June 13, 2019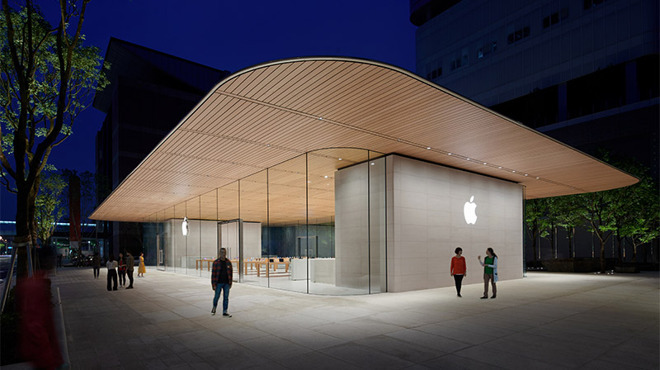 Apple offered a sneak peek at its Xinyi A13 location in Taipei ahead of a 10 a.m. grand opening on June 15. A glass-and-stone pavilion design is reminiscent of other recent flagships, such as Michigan Avenue in Chicago.
The outlet will be the first in Taiwan to host artist-led Today at Apple sessions. Also new to the country is a Genius Grove, which affords people the opportunity to work with Geniuses under a canopy of trees.
June 12, 2019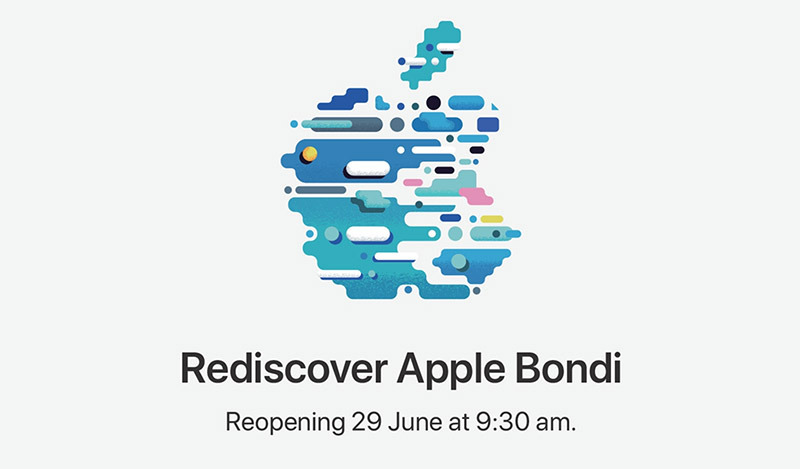 After closing in March for renovations, Apple Bondi in Australia is scheduled to reopen on June 29 at 9:30 a.m., the company announced in an update to its regional website. Like other recently updated retail sites, the Bondi location is expected to receive the "Apple 2.0" treatment.
June 6, 2019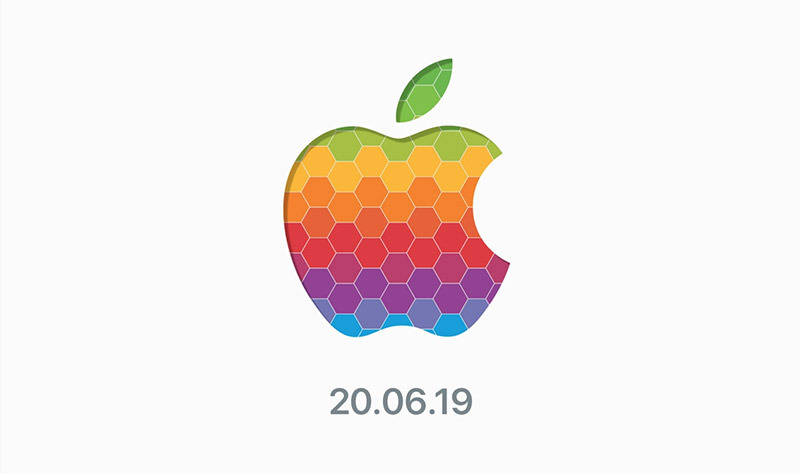 Apple is due to reopen the Apple Passeig de Grcia store in Barcelona on June 20, according to the company's regional website. The outlet closed earlier this year to receive a modern "Apple 2.0" makeover.
June 4, 2019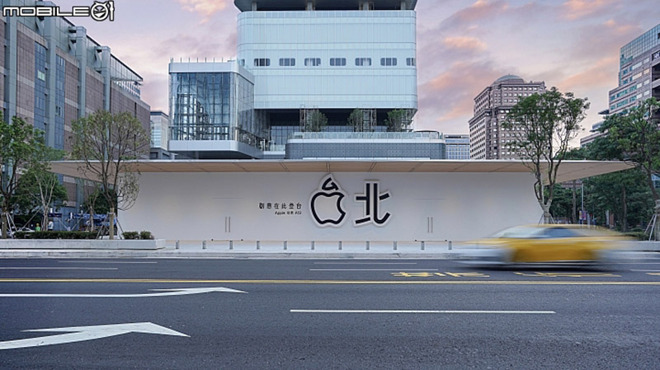 Apple Xinyi A13. | Source: Mobile01
Apple SVP of Retail Deirdre O'Brien in a post to Instagram on Tuesday revealed the company's second Taiwan store, Apple Xinyi A13, will open on June 15.
May 27, 2019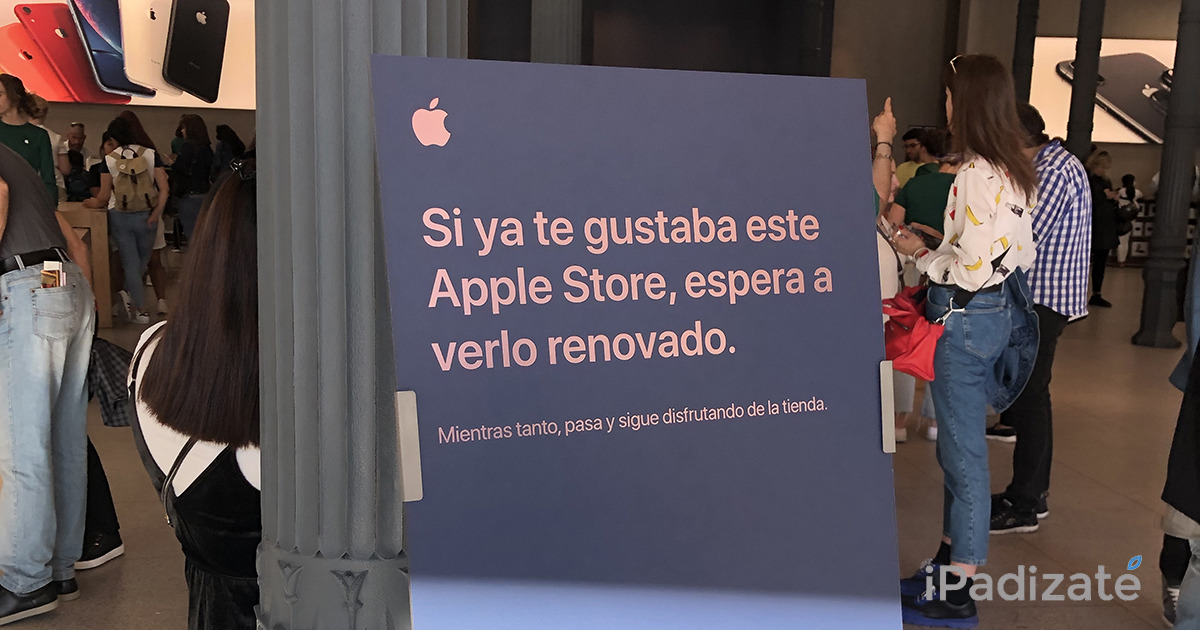 Apple's signature Puerta del Sol store in downtown Madrid is undergoing renovations but still operating, according to iPadizate. The company has temporarily blocked off access to the second floor, including even a central "light patio." It's unknown when work will be finished and/or if it will spread to the first floor.
May 24, 2019
Apple Pioneer Place in Portland, Ore. will reopen May 31 at 10 a.m. local time. The shop is on 450 SW Yamhill, and has been closed for renovations since March 24. Apple is presumably upgrading to its latest standard design, which includes things like video walls and forum seating.
The company is meanwhile preparing its second Taiwanese store, based in front of the Xinyi A13 mall in Taipei. No opening date has been set.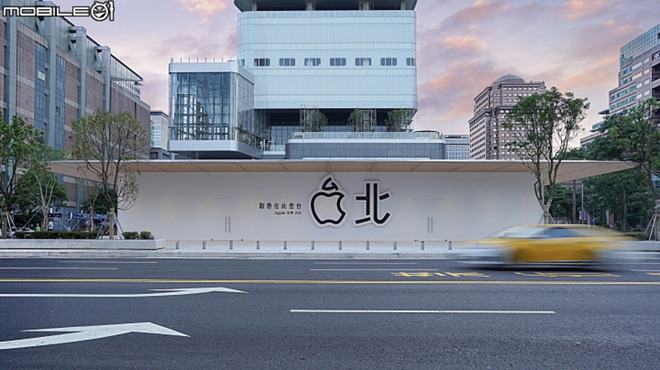 May 1, 2019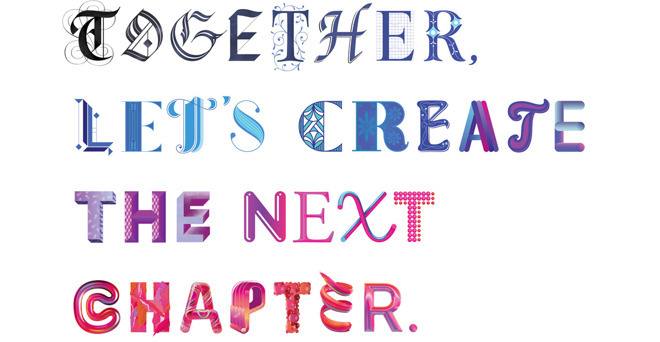 In development for some three years, Apple Carnegie Library in Washington, D.C. will finally open on May 11 at 10 a.m. The shop measures roughly 19,000 square feet, and making room for Apple required relocating the library's book collection.
To mark the launch Apple is hosting a "StoryMakers Festival" between May 18 and June 29. The event will consist of a variety of creatively-themed Today at Apple sessions, headlined by names like GoldLink, Nigel Barker, and No Kings Collective.
Apr. 16, 2019
A massive 20,000-square-foot store is en route to London's Knightsbridge district, according to The Evening Standard. Apple has reportedly signed a deal for a space between Harrods and Harvey Nichols.
The company already has five stores in the London area, but the city also has a population of over 14 million people, and is regularly flooded with tourists and other travelers.
In the U.S., Maryland's Mall in Columbia shop is moving into an 8,000-square-foot space, 9to5Mac says. The existing storefront was founded in 2006, and measures 5,000 square feet.
Three U.S. locations — Scottsdale Quarter, Eton, and Ridge Hill — are upgrading with video walls and forum spaces. Scottsdale will additionally be getting new shelving.
Apr. 8, 2019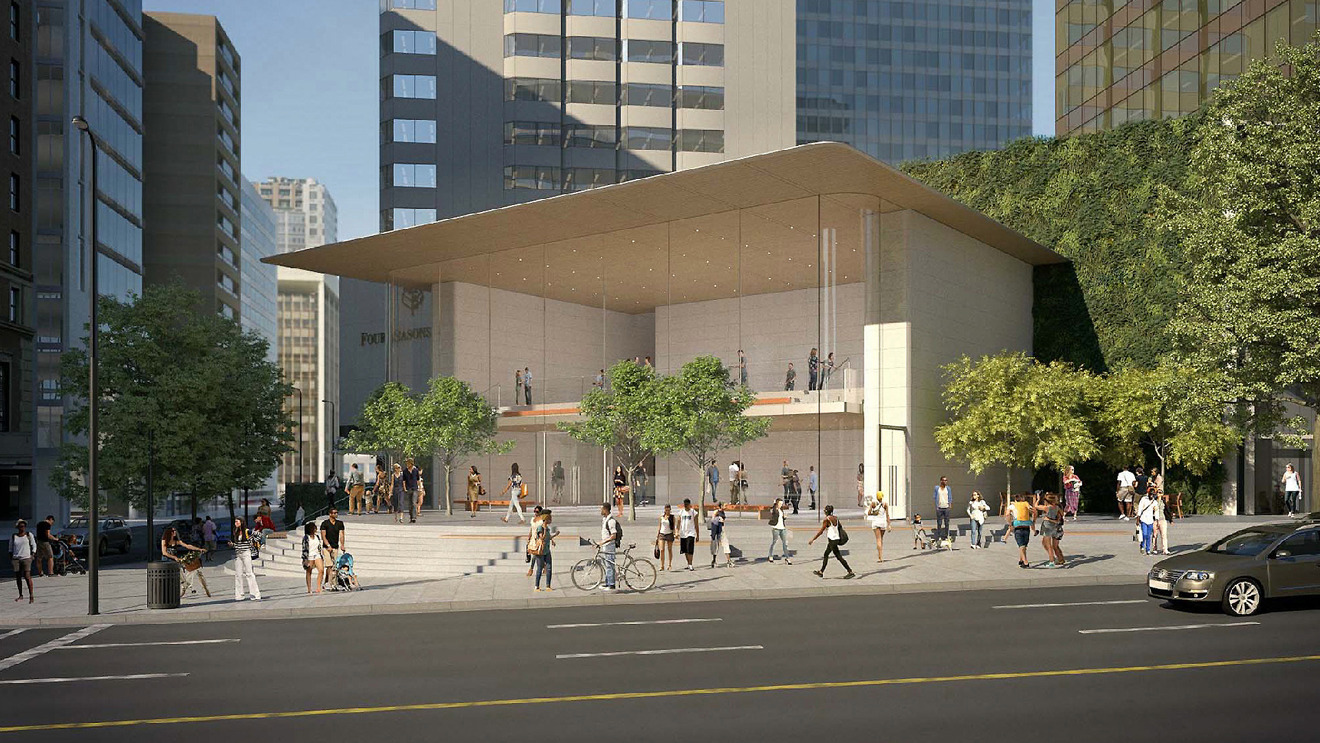 A mockup of the proposed Pacific Centre store.
The city of Vancouver, Canada's Urban Design Panel has voted 4-3 against supporting a proposed design for an Apple store at the Pacific Centre, CityDuo says. One point of criticism was a planned "green" wall behind Apple's outdoor pavilion, but the broader theme among members was that they didn't feel the pavilion would blend well with the mall it would be attached to.
The panel is only an advisory group and is unable to block the project, but its opinion will likely come into play when the city's Development Permit Board makes a decision on May 13.
Apr. 3, 2019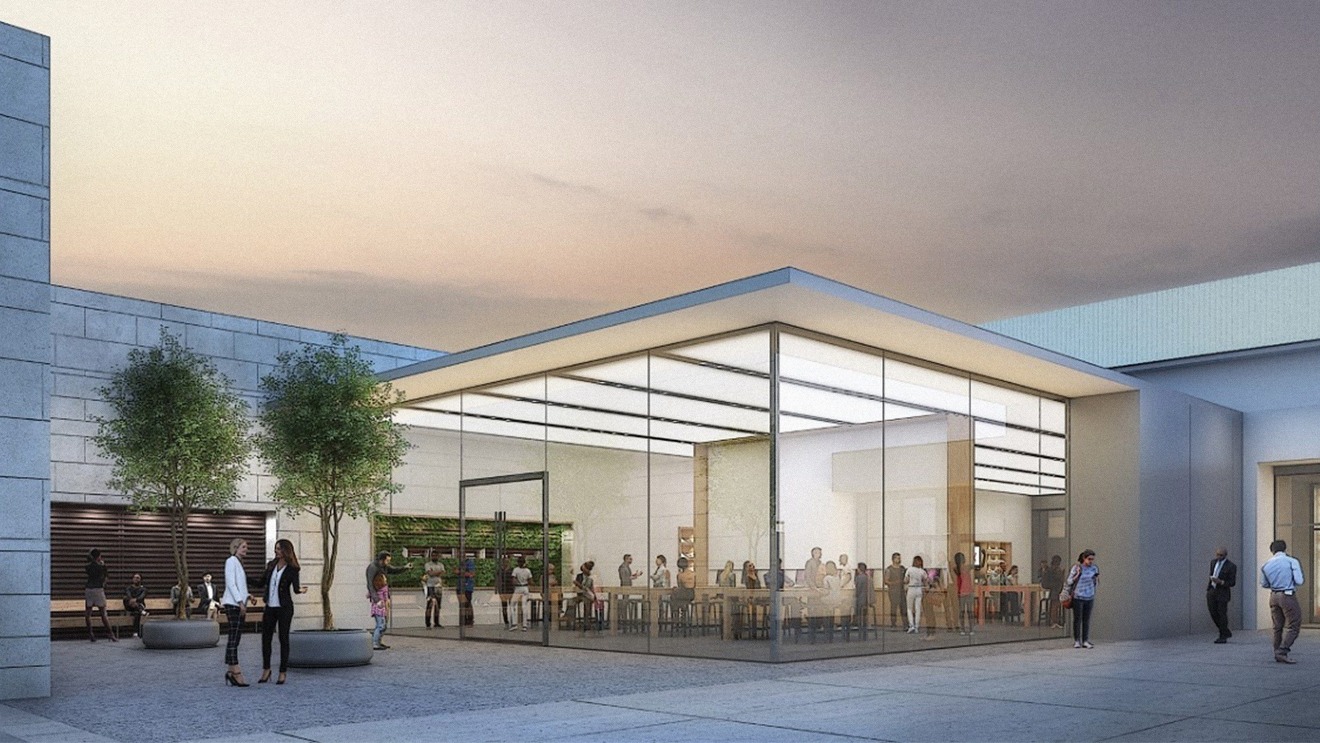 Apple may be replacing its existing Cherry Hill Mall store in New Jersey with a bigger, more modern location, a Courier Post report suggests. The city's planning board recently met to discuss a "flagship" store for an unspecified tenant, and a lawyer for the mall's owner said this tenant "is an internationally recognized technology equipment store" that currently occupies 5,700 square feet.
Renderings strongly resemble an Apple store. If Apple is indeed the new tenant, it will be replacing a North Face and occupying some 10,000 square feet, with the added bonus of facing a 2,000 square foot plaza.
Apr. 2, 2019
According to industry sources, Apple is looking at Nashville's Fifth + Broadway location. A mostly completed section of a new-build retail area has been demolished, to "meet tenant needs" link text">according to the Nashville Post.
Apr. 1, 2019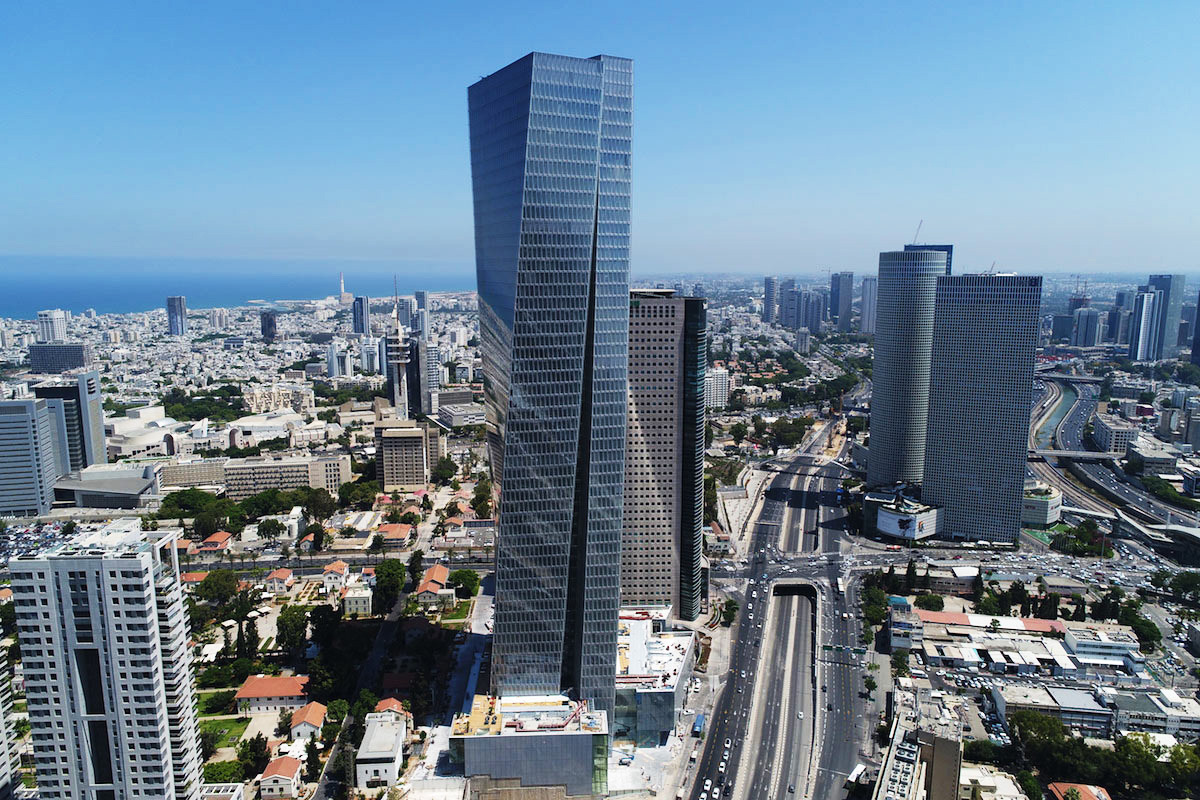 Apple has reportedly scrapped plans to launch any Israeli retail store in the near future, despite potentially lucrative sales.
The company had been considering a shop at the base of the Azrieli Sarona Tower, but the Azrieli Group rejected proposed financial terms, according to Haaretz. The paper further claimed that no mall owner in the country has been willing to accept Apple conditions, leading to it stepping back after a year or more of searching.
One of Apple's demands was help covering marketing and inventory costs, a Haaretz source said. The company has made similar demands with carriers selling iPhones, even though it makes tens of billions in profits each quarter.
March 28, 2019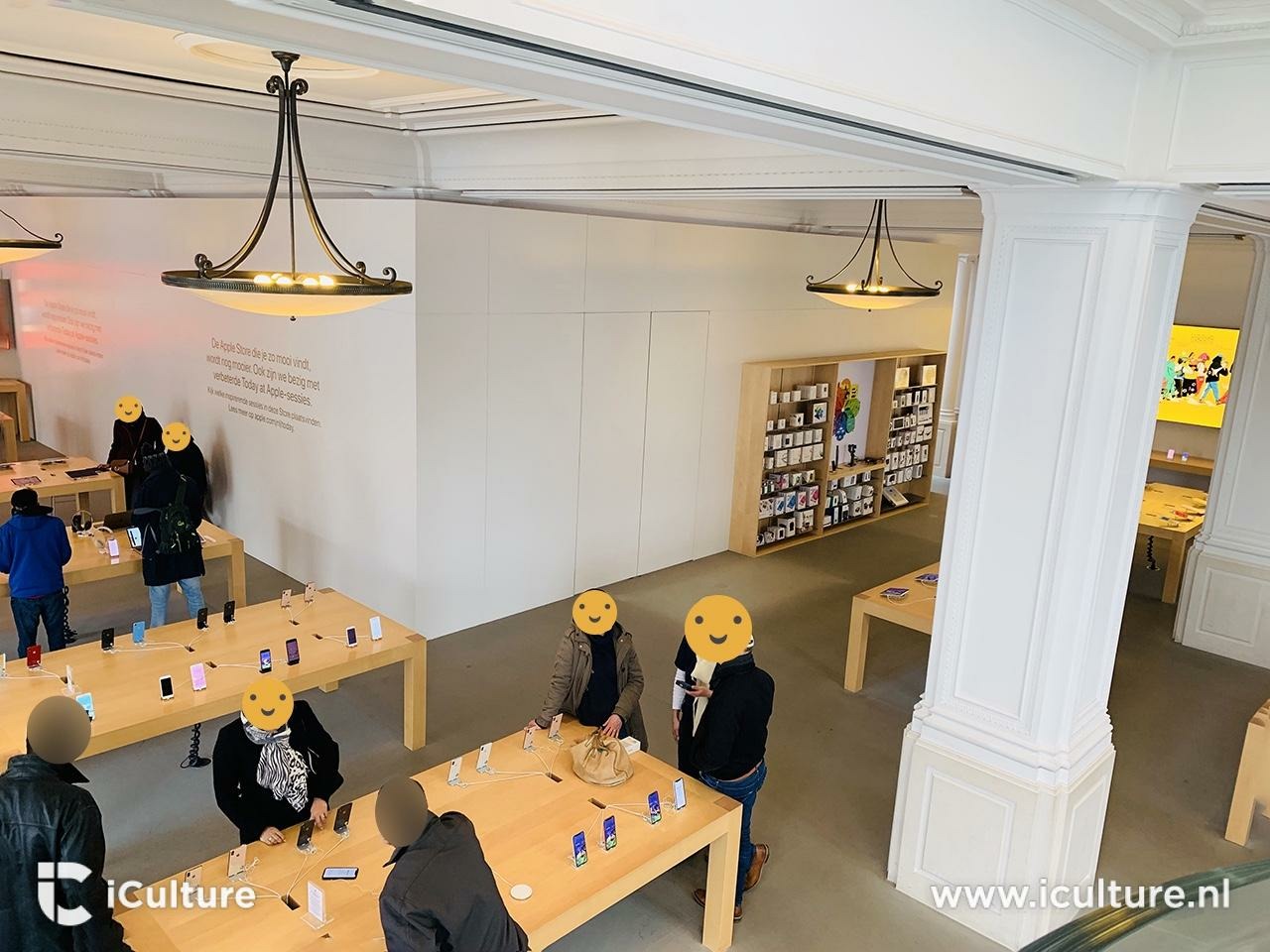 Apple's flagship Dutch store in Amsterdam is undergoing partial renovations, iCulture.nl says. While one floor is being kept open, the other is being shut, forcing things like the Genius Bar and accessory displays to move. In photos indoor construction barriers can be seen, and the company is apparently using temporary shelving to handle product overflow.
The full extent of Apple's plans in unknown, but text on the barriers promises that the shop will become "even more beautiful" and gain "improved Today at Apple sessions." One source indicated that the renovation work will last until October 2019 — a long time for any Apple renovation work, much less a single floor. That may be because of the Amsterdam store's historic architecture.
Elsewhere, minor upgrades are being made at two Australian stores: Apple Highpoint near Melbourne, and Apple Broadway near Sydney. Highpoint at least is getting its own video wall. In the U.S., Dallas' Apple Knox Street has started its own previously-promised renovations.
March 27, 2019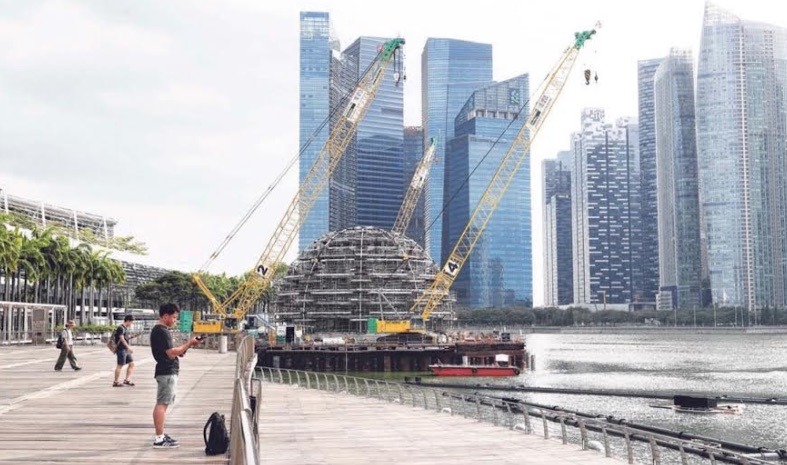 A dome at Marina Bay Sands, allegedly for Apple, is already under construction.
The company's second and third Singapore stores are in development, according to the The Straits Times. One should open within Jewel Changi Airport, and the other at Marina Bay Sands, close to the city's business district. The Marina shop may have a dockside location replacing the Avalon night club, as well as a dome structure completely unique within the Apple retail chain. It may be linked to the rest of the shopping center by way of an underwater tunnel, similar to one used for a Louis Vuitton outlet.
March 26, 2019
Apple has confirmed the impending closure of two Texas stores, located in Plano and Frisco. Willow Bend and Stonebriar will both shutter on Apr. 12, the former being one of the oldest in Apple's retail chain, dating back to 2002. The pair are being replaced on Apr. 13 by a Galleria Dallas location, even though that's a 30-minute drive from Frisco.
It may be that Apple is trying to remove its retail presence from the Eastern District of Texas, a notorious venue for patent trials given relatively little court traffic and plaintiff-friendly judges. Without local Apple stores, it may be harder for patent holders to establish standing.
March 5, 2019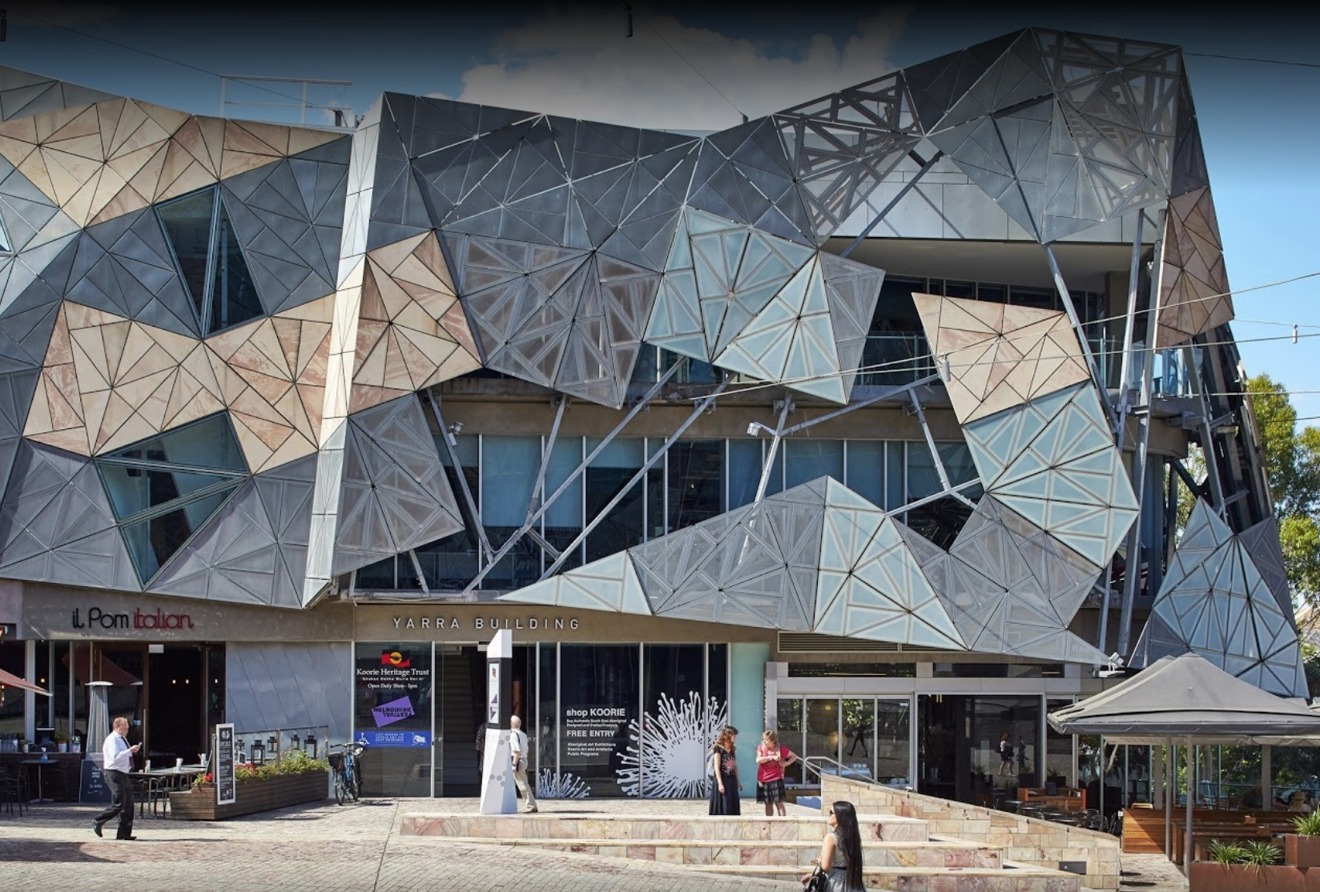 The Yarra Building.
In a Future Melbourne Committee meeting held on Tuesday, city councilors and local organizations alike expressed opposition to a permit application by Federation Square management for demolishing the Yarra Building. Removing that building would pave the way for a long-controversial Apple store.
In the run-up to the meeting, over 100,000 people signed a petition against the store, and the city council received some 1,100 like-minded submissions. A single submission came in Apple's favor, and during the meeting only one councilor backed the permit.
Although many people aren't fans of the Square's architecture, groups like "Our City, Our Square" have argued that it's now integral to Melbourne's identity, and that an Apple store would permanently alter this. The company isn't out of the game yet — Heritage Victoria has yet to approve or deny the demolition.
In the U.S., a Carnegie Library store — also controversial because of cultural appropriation — is now expected to open by late spring, possibly as soon as April. The library's book collection is being relocated, and reading rooms are being turned into product demo spaces. Apple is also paying Events D.C. between $1 million and $2 million in compensation.
March 4, 2019
Apple Pioneer Place in Portland, Ore. will close for renovations on March 24 with no firm reopening date. The shop technically dates back to 2005, though its current outdoor space was only established in May 2014. Apple is presumably upgrading to its latest design aesthetic, which includes things like video walls and forum seating.
Feb. 27, 2019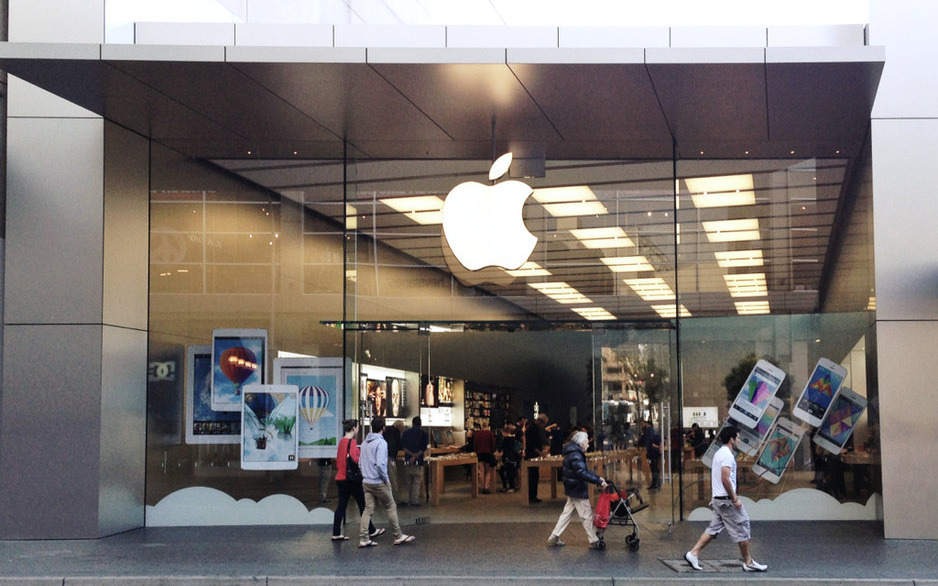 Apple Bondi, located on Oxford Street in Bondi Junction, Australia, is closing for renovations beginning March 24. The company hasn't said when the store will reopen or what changes are being made, but the shop will likely catch up with a modern design aesthetic including things like wooden shelves, a video wall, and possibly forum space.
Feb. 22, 2019
Apple has filed permits to open a store in Galleria Dallas, an indoor mall located at the corner of Interstate 635 and the Dallas North Tollway. The company is looking to occupy 8,155 square feet on the first floor.
Existing stores in the outlying communities of Plano and Frisco will close, possibly as soon as mid-April, sources told 9to5Mac. It's possible that Apple will assign at least some of those stores' workers to Galleria Dallas, since Plano and Frisco are about 30 minutes away and part of the larger Dallas-Fort Worth area.
Apple confirmed the closures in a statement to AppleInsider and other venues.
We're making a major investment in our stores in Texas, including significant upgrades to NorthPark Center, Southlake and Knox Street. With a new Dallas store coming to the Dallas Galleria this April, we've made the decision to consolidate stores and close Apple Stonebriar and Apple Willow Bend. All employees from those stores will be offered positions at the new Dallas store or other Apple locations.
Speculation exists that the move is to skirt the "rocket docket" that has developed in the Eastern District of Texas patent court. However, as Apple has at least 12 other corporate facilities in the region that AppleInsider is aware of, all of those would have to be closed as well.
Feb. 6, 2019
Apple might be eyeing a massive expansion to its street-front store in Reston Town Center in Reston, Va., according to a report from Reston Now. Building permits point to a takeover of a recently vacated Pottery Barn location that sits adjacent to Apple's current outlet. Plans mention a video wall, suggesting the company intends to transform the location into a next-generation Apple Store.
Separately, Apple's Natick Collection store in Natick, Mass., will resume business on Feb. 16 at 10 a.m. local time. The spot has been closed for renovations since May 31 last year, and should take up Apple's current fashion-oriented aesthetic with touches like wooden shelf displays and an oversized video wall.
Feb. 4, 2019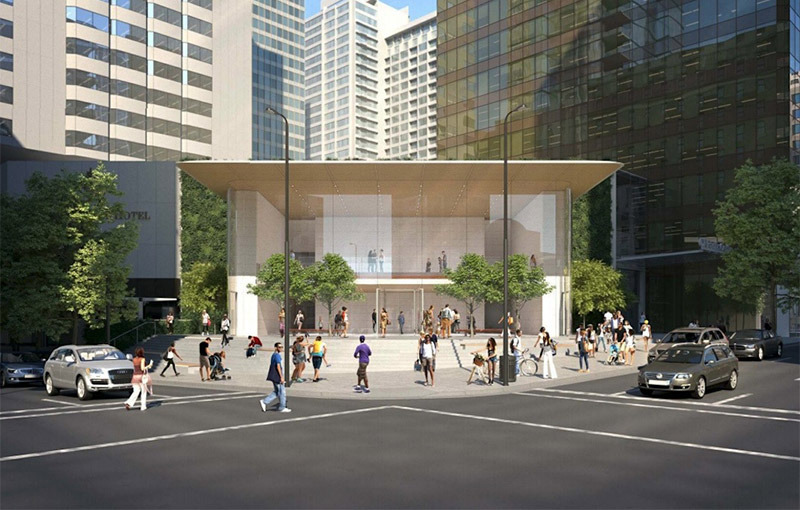 Rendering of the proposed CF Pacific Centre outlet. | Source: Perkins + Will Architects
Documents unearthed by The Daily Hive suggest Apple has settled on a location for a long-awaited flagship store in Vancouver. A development application submitted by Perkins + Will Architects outlines plans for a major reworking of the CF Pacific Centre's rotunda entrance building into a two-story retail pavilion.
While Apple has yet to make an official announcement, the document includes mention of a metal cantilevered roof, all-glass facade and other design hallmarks of Apple's flagship stores. Outside, the building is slated to feature warm grey limestone cladding, granite paving, wood soffits and low-iron glass, while the interior boasts wood ceilings and bench seating running the length of the second level, according to the report.
The flagship is expected to replace the current Apple Store located inside the adjacent Pacific Centre shopping mall.
Jan. 9, 2019
Apple Eaton Centre in downtown Toronto is relocating to a bigger space within the same mall, one currently held by Abercrombie & Fitch, MacRumors sources say. The latter company is already poised to move to a new spot this spring, though Apple's relocation might not be complete until sometime in 2020.
The mall's existing Apple store occupies just 4,977 square feet, extremely small given that Toronto is Canada's biggest city. The A&F space is 10,680 square feet, and Apple could potentially choose to annex surroundings for even more room.
A long-rumored store at The One, a skyscraper in development at the corner of Yonge and Bloor, is meanwhile apparently confirmed by a brochure for a nearby condominium complex at 19 Bloor Street West. The marketing claims that the store will primarily face Bloor, with just a small section running along Yonge.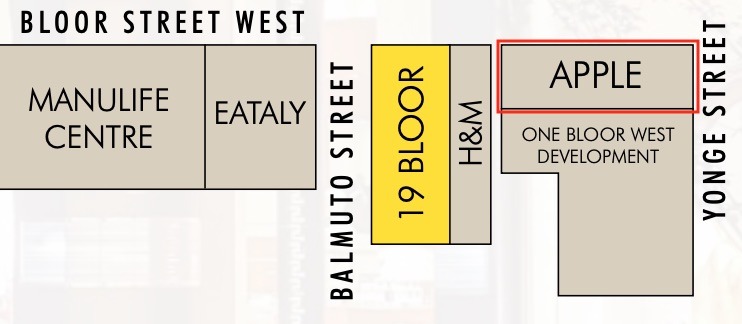 The One won't be completely finished until 2022 or later, but the ground-level retail space could be ready in 2020.
Jan. 7, 2019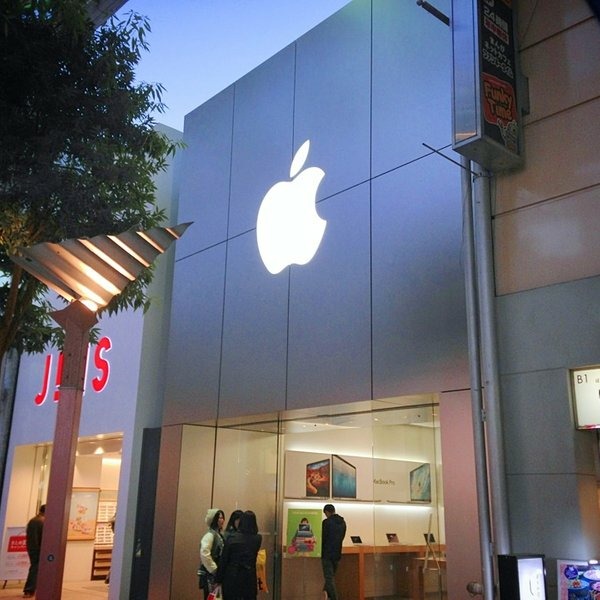 A store in the northern Japanese city of Sendai will be shuttering Jan. 25. The shop launched in the Ichibancho shopping district in December 2005, but has remained largely unchanged, and now finds itself as the country's smallest Apple store. It's not clear if and when Sendai will get a replacement.
Stateside, Apple Bridgewater in New Jersey is temporarily closing for renovations starting Jan. 27. No reopening date is available.
Jan. 3, 2019
Florida's Altamonte Springs shop will close on Jan. 13 for renovations. The location in Altamonte Mall dates back to 2008, and sports aesthetics Apple now considers outdated, such as steel panels. The company is likely to take the opportunity to expand into a nearby vacant space.
During the closure, people wanting in-person shopping or tech support will have to turn to stores in Orlando. No reopening date has been set.
Elsewhere in the state Apple is continuing its renovations of Waterside Shops in Naples, which closed Sept. 2. According to The Next Miami, the company will also be relocating its Aventura store to a bigger space next to the Aventura Mall's outdoor slide.
Dec. 12, 2018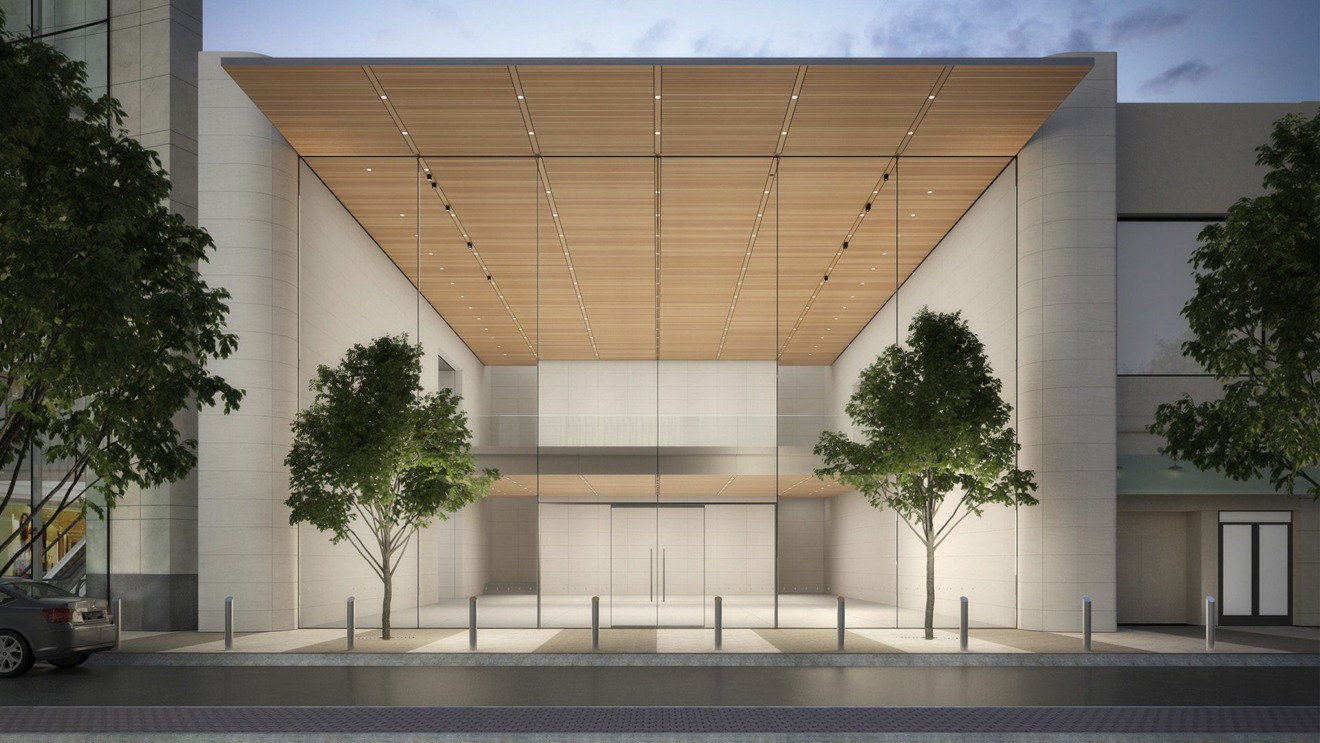 An architect's render of the new design.
Apple will be using a multilevel layout for its replacement store in Atlanta's Lenox Square mall, according to the Atlanta Business Chronicle. The current outlet, dating back to 2002, occupies a single floor. Other changes will include a wood-planked roof and a new facade consisting of six floor-to-ceiling glass panels. Sitting on either end will be curved stone walls.
The updated shop should be based between a Zinburger restaurant and the mall's entrance from Peachtree Road. An opening date is uncertain, but past reports have pointed to late 2019.
Nov. 15, 2018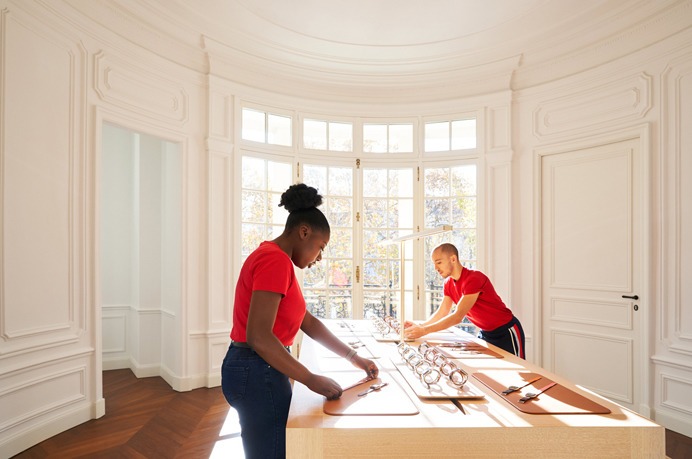 Apple previewed Paris' new Champs-Elysees store ahead of its Nov. 18 opening. For more details and photos, check out our news story.
Nov. 12, 2018
Lynnwood, Wash.'s Apple Alderwood Mall will finally resume business on Nov. 17 at 10 a.m. local time. The shop has been closed for renovations since Feb. 25, suggesting a major overhaul. Lynnwood is just north of Seattle, and some traffic may have been picked up by Apple University Village, which debuted this summer.
Nov. 9, 2018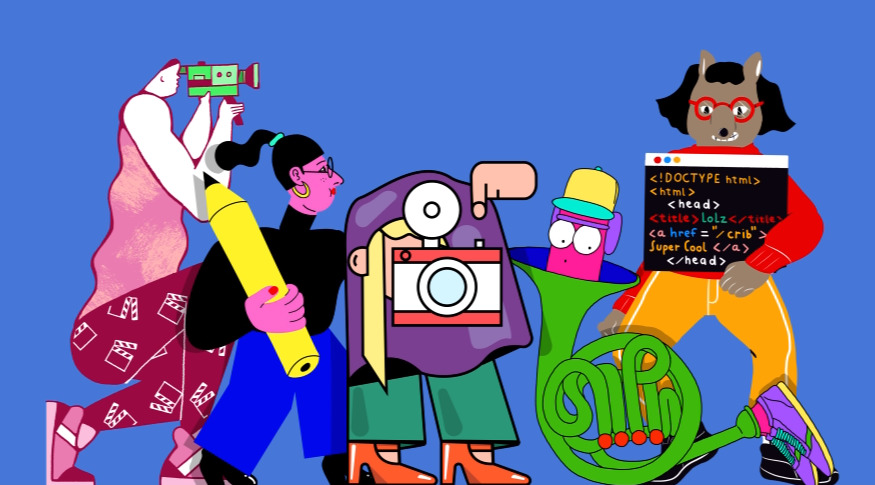 Apple's new leading Parisian store, Apple Champs-Elysees, will launch Nov. 18. Since late October the building has had work from 15 artists on its windows, and the company is preparing an assortment of special Today at Apple sessions, including live art, a Music Lab with Songe and Myd, and two concerts.
Nov. 6, 2018
The Westchester outlet in White Plains, N.Y. will reopen Nov. 10 at 10 a.m. The shop has been closed since Apr. 2, suggesting major renovations.
Nov. 5, 2018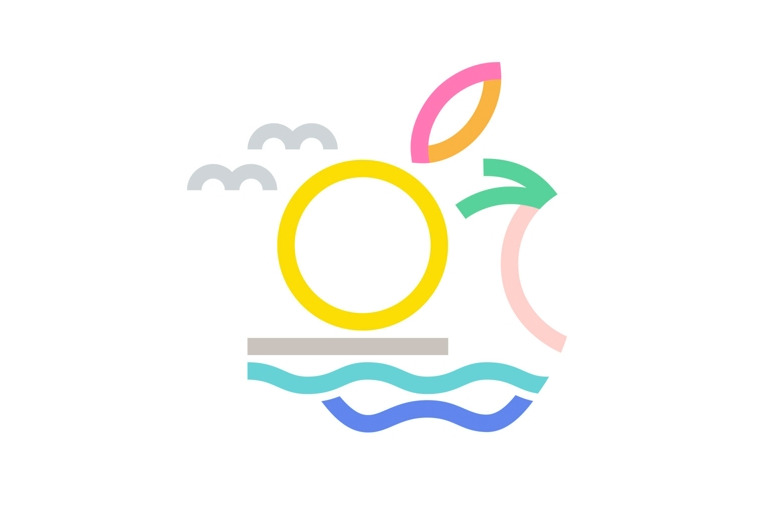 Apple Third Street Promenade in Santa Monica, Calif. will reopen on Nov. 17 at 10 a.m. local time. The shop has been closed since Sept. 16 for renovations, and in its new form will include a video wall plus a forum for Today at Apple events.
Oct. 25, 2018
Oct. 24, 2018
Oct. 16, 2018
Tokyo's Apple Shibuya will reopen on Oct. 26. The store has been undergoing renovations for 11 months, forcing Apple Omotesando to take in extra traffic. Such a long remodeling is unprecedented, suggesting that Apple intends to wow the public and make it a key Japanese location. The whole country has only nine Apple stores, despite a population of over 127 million.
Oct. 11, 2018
Having been closed for four months of renovations, Apple's Covent Garden store in London will finally reopen on Friday, Oct. 26. That's also the official ship date for the iPhone XR.
The extent of Apple's changes is unknown, but as a prominent location the store is likely to get a "forum" space for Today at Apple events in addition to other modern touches like an oversized video wall.
Oct. 4, 2018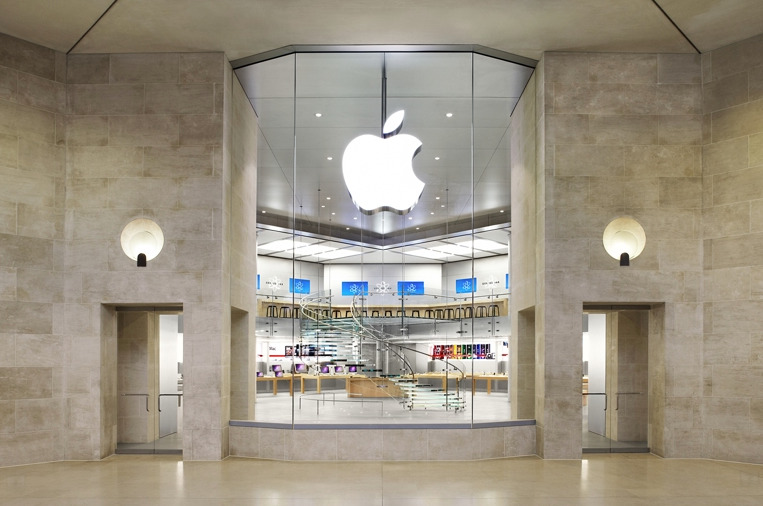 The closure of the Carrousel du Louvre outlet in Paris will take place on Oct. 27, Apple has announced. As revealed last month, it will be replaced by a Champs Elysees location in November. Workers from the Louvre store are being offered jobs elsewhere in the city.
Sept. 25, 2018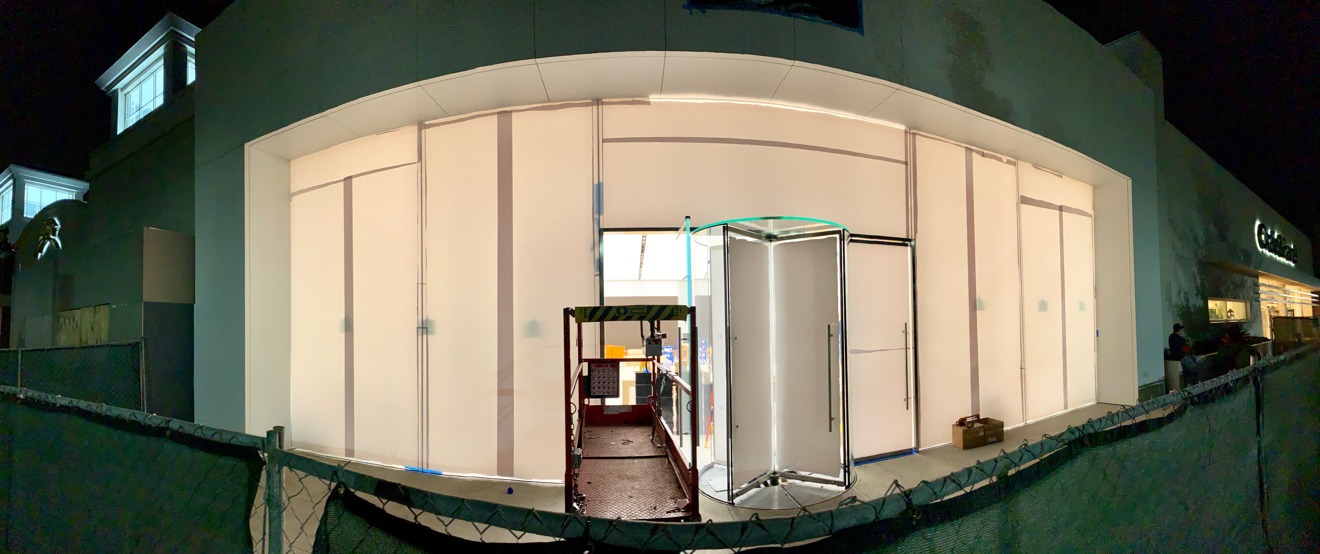 Image Credit: AppleInsider reader Rob R.
Apple Deer Park in Illinois, which is relocating to a former Restoration Hardware in Deer Park Town Center, will throw open its doors this Saturday at 10 a.m. local time. Last-minute construction work is underway.
Sept. 24, 2018
The Robina Town Centre shop in Queensland, Australia will reopen Sept. 29 at 9 a.m., having moved to a different location within the same mall. As usual with recent relocations, the store will have an overhauled design including a video wall, and in this case forum seating for Today at Apple events.
Sept. 19, 2018
A new shop, Scottsdale Fashion Square, is set to open outside of Phoenix, Ariz. on Sept. 29 at 10 a.m. It will replace the city's aging Biltmore location, which is smaller and lacks Apple's current retail aesthetics.
Opening the same day will be Nashville's renovated Green Hills store. The space closed in February, but the downtime comes with the benefit of a greatly expanded footprint.
Sept. 18, 2018
The relocated Apple Eastview in Victor, N.Y. will reopen on Sept. 21, the same day the iPhone XS, XS Max, and Apple Watch Series 4 will become available. For those launches the shop will open at 8 a.m. instead of its usual 10.
Changes to the shop are uncertain, but it should offer a bigger space and a modernized design. The Eastview outlet first opened in 2005 and went largely unaltered until the relocation effort.
Sept. 10, 2018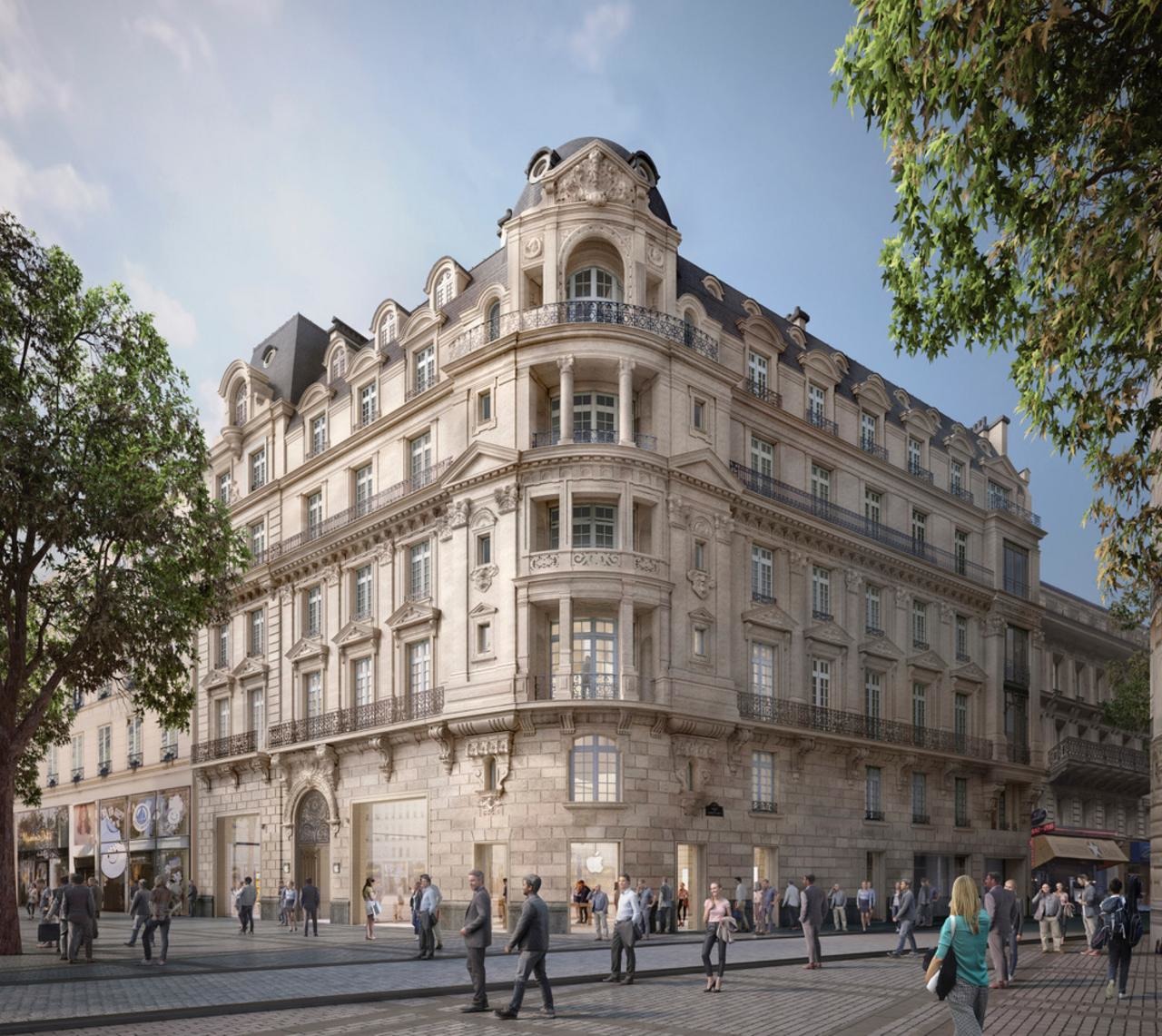 A long-expected Champs Elysees outlet in Paris will open this November, the company told France's LCI. The new flagship will be located at 114, and occupy at least two floors, with the rest of the space being dedicated to offices. Annual rent should be about 14 million euros ($16.2 million), three times what the previous tenant paid.
Design work is being handled by Apple's usual ally Foster + Partners. The store should also be powered entirely by clean energy.
In a tradeoff, the company will be shuttering its Carrousel du Louvre location once its lease expires. Workers there will be offered other jobs in the Paris region, presumably including Champs Elysees.
Sept. 6, 2018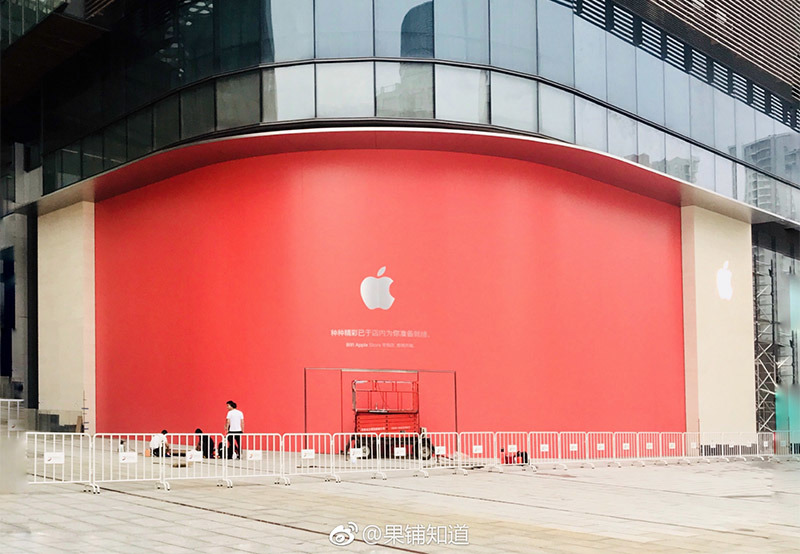 Apple is set to open a new outlet in Suzhou, Jiangsu, China. Photos of the store, currently under construction in the iconic Gate to the East building, were posted to a Weibo page dedicated to Apple retail openings.
With an official "coming soon" facade in place, Apple Suzhou should open soon.
Sept. 2, 2018
The Third Street Promenade location in Santa Monica, Calif. will close on Sept. 16 for renovations. It's unknown when work will complete, but the shop will at least be out of action for Apple's usual fall iPhone launch.
One compensation is that Santa Monica is a part of the greater Los Angeles area, and the city has numerous Apple stores, including Apple Century City only 15 minutes away.
Aug. 30, 2018
The SouthPark store in Charlotte, N.C. is slated to reopen on Sept. 2 at 11 a.m. local time following four months of renovations. The shop dates back to 2004 and in fact relocated to a bigger space in 2013.
Sept. 2 will also signal the beginning of planned renovations at Waterside Shops in Naples, Fla.
Aug. 23, 2018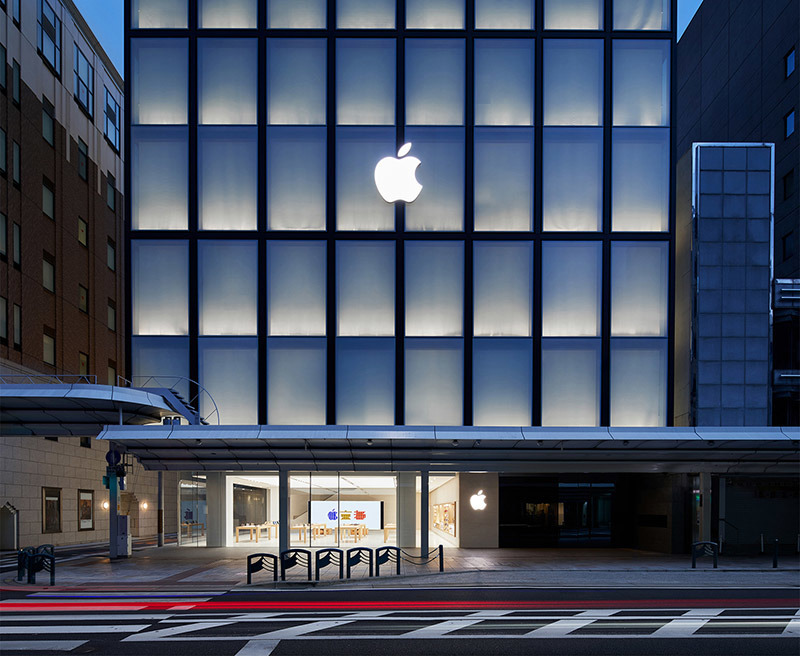 Opening Aug. 25, Apple Kyoto will be the company's first outlet in Japan's former imperial capital. Located on Shijo Dori, which has served as Kyoto's shopping mecca since the 1600s, the thoroughly modern retail store features design elements inspired by local materials, architecture and tradition.
The upper levels of the space are covered in a "translucent envelope" inspired by Japanese toro lanterns, while the upper facade uses lightweight timber and special paper that references Japan's traditional houses, Apple says. Indeed, a picture of what appears to be an upper level of the store shows a wall design that resembles a shoji door's wood-and-paper paneling.
Inside, a sales floor is split between multiple levels, each of which opens to a central atrium where Apple plans to host Today at Apple sessions. Boasting an "Apple Store 2.0" aesthetic, the interior layout is open with ample room for Apple's custom-built demonstration tables, accessory shelves and, on ground level, a 6K video wall.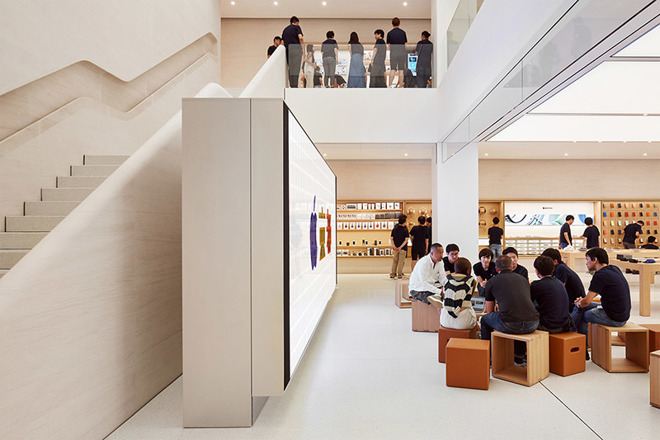 Aug. 14, 2018
Two U.S. shops will be reopening in bigger spaces on Aug. 18. These include Apple Orland Square Mall in Orland Park, Ill., and Apple Irvine Spectrum Center in Irvine, Calif. Both date back over a decade, and until relocation efforts the Orland Square Mall store was notoriously small, with aisles easily choked by traffic.
Aug. 13, 2018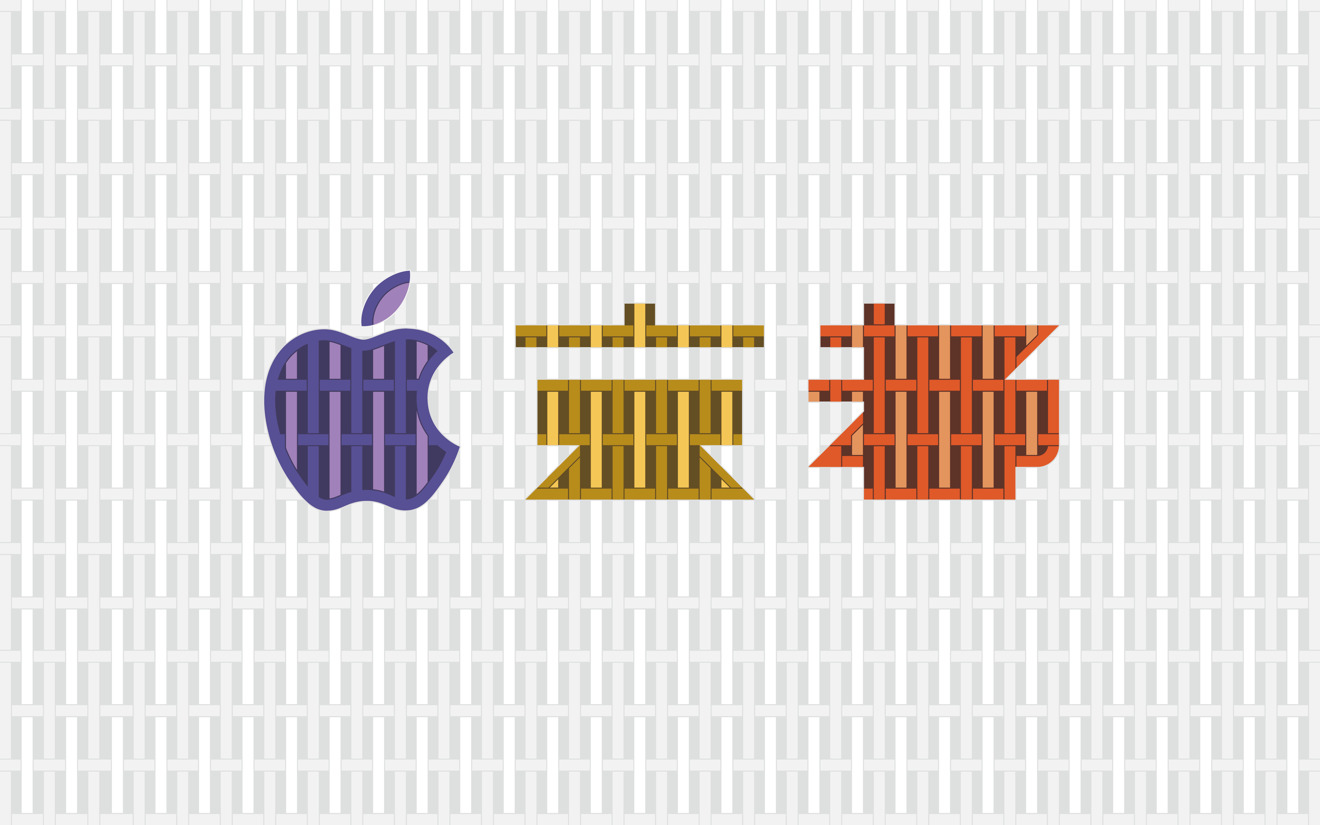 Apple's new store in Kyoto, Japan will launch at 10 a.m. local time on Aug. 25. The shop will be open from 10 a.m. to 9 p.m. every day of the week, operating out of the Kyoto Zero Gate building.
The company has eight other stores in the country, but until now has never had one in Kyoto.
Aug. 6, 2018
Apple Waterside Shops, located in the Florida town of Naples near Fort Myers, is scheduled to shutter temporarily starting Sept. 2 while renovations are in progress. It's unknown when work will be finished.
The store dates back to March 2007, and needs a number of changes to bring it in line with Apple's current design aesthetics. These include adding a forum space and an oversized video wall.
Aug. 2, 2018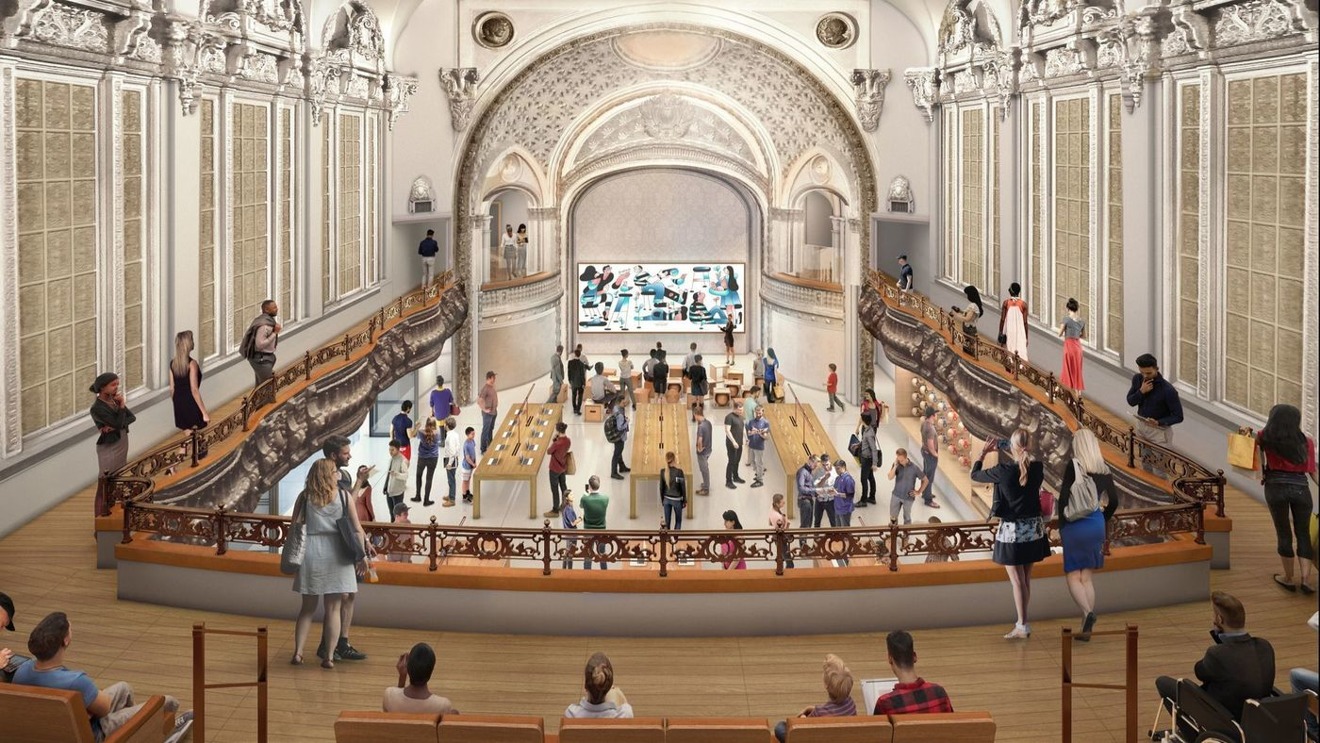 An official mockup of Apple's renovation plans.
Apple has revealed more about its plans for Tower Theatre in Los Angeles. The company's senior director of retail design, B.J. Siegel, told the Los Angeles Times it will be "in the upper echelon" of the company's stores, different from anything else in the city, retaining some of its theatrical design touches and hosting events meant to draw hundreds of people. The place where the theater's movie screen used to be will play home to a video wall.
The shop should become a "mecca" for talks by experts in movies, TV, and music, Siegel added, taking advantage of Los Angeles' role as an epicenter of mainstream commercialized culture.
July 18, 2018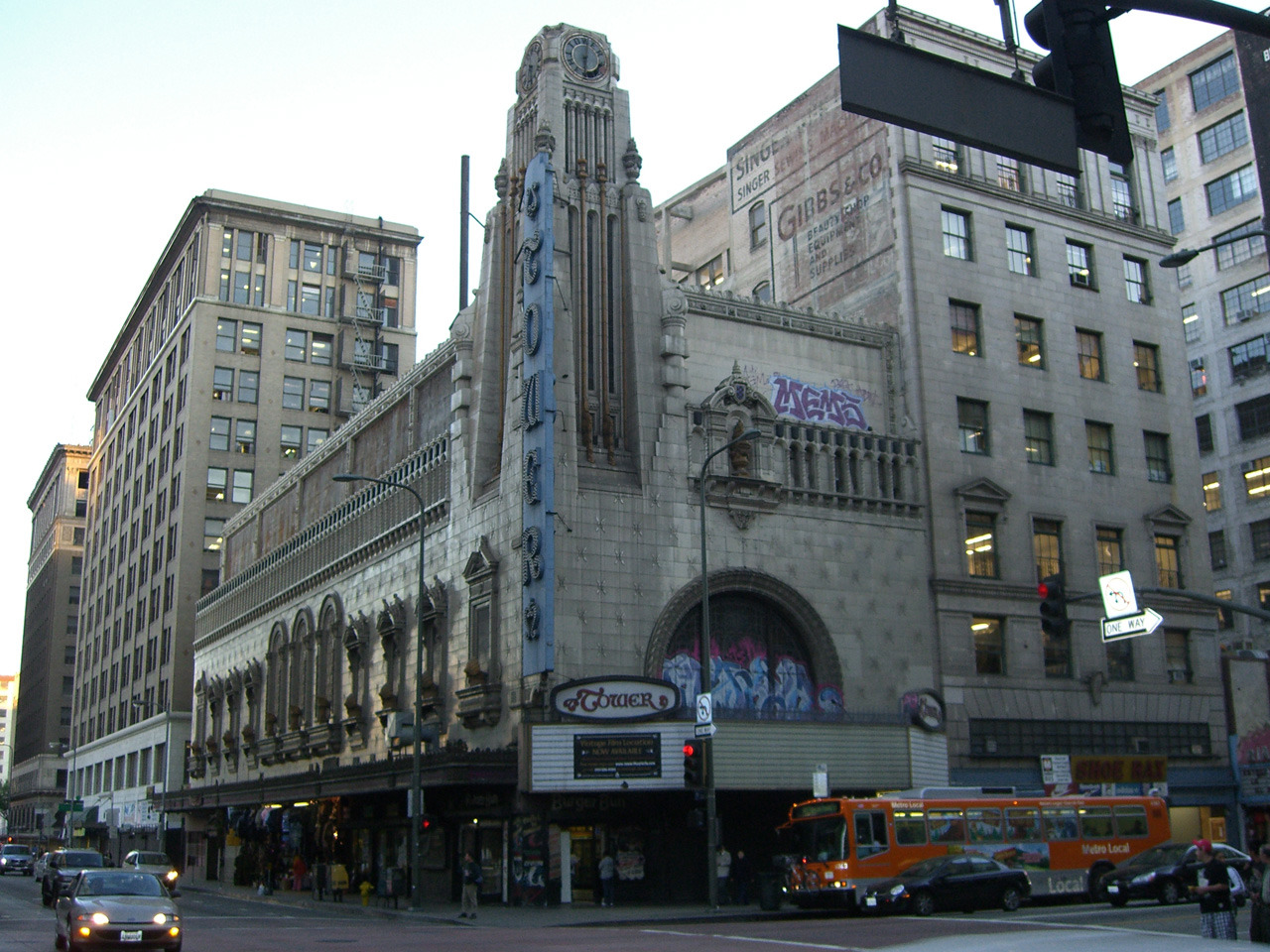 By way of city work permits, Apple has confirmed plans to restore and convert the well-known — but long abandoned — Tower Theatre in downtown Los Angeles, according to Curbed. The structure was originally built in 1927 and was the first L.A. theater to be wired for sound, but is now known only as a landmark thanks to its period architectural details.
Apple is set to replace the gallery mezzanine, as well as retrofit the building to better withstand earthquakes. It's unknown when Apple might be ready to open a store.
July 17, 2018
Apple's relocated Walnut Creek, Calif. store will open on July 28 at 10 a.m local time. The new shop is based in Broadway Plaza, at the location of a former California Pizza Kitchen. Architecturally it should resemble the likes of Apple's Michigan Avenue, with a flat roof and glass walls that blend the store with its surroundings.
July 14, 2018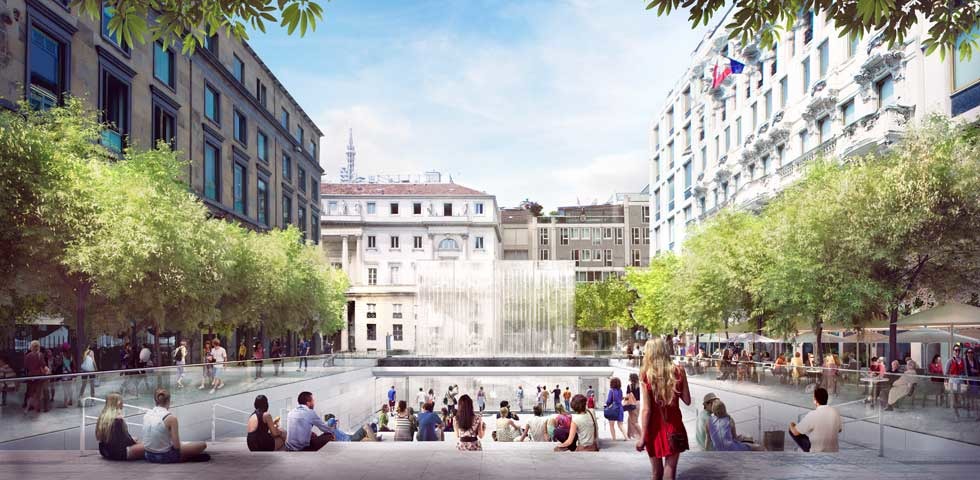 Apple Piazza Liberty in Milan will officially throw open its doors on July 26, retail head Angela Ahrendts told Io Donna. The shop will be open 24 hours a day, the same as the Apple Fifth Avenue location in New York City.
July 4, 2018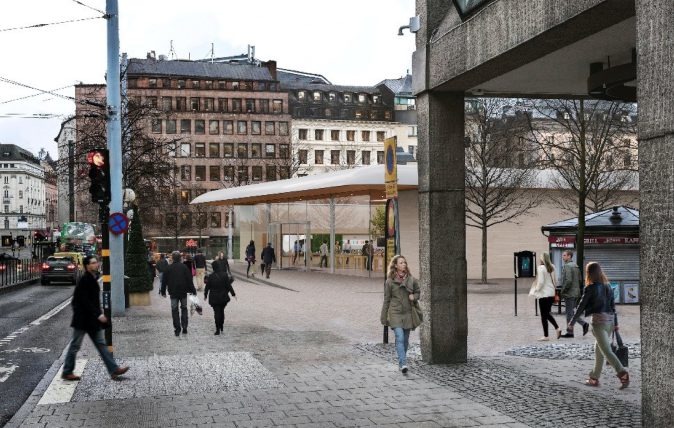 One of Apple's renderings of the proposed Stockholm location.
Through Sept. 12, the Swedish public has been given a chance to see and comment on Apple's draft proposal for a shop bordering Stockholm's Kungstradgarden. Also looking at the proposal are 24 regional organizations, and a consultation meeting is set for Aug. 23.
The shop's look would take after Apple's more recent buildings, such as its Michigan Avenue store in Chicago, or the Visitor Center in Cupertino. This includes a low, flat roof, curved glass, and wood planking for the ceiling.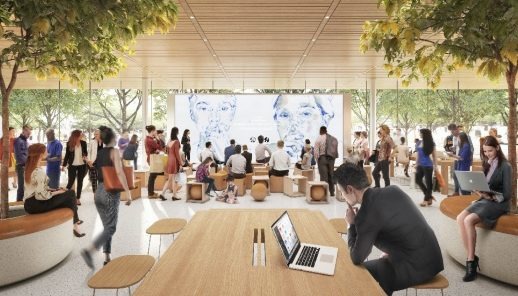 Apple has been working towards the Kungstradgarden shop since early 2016, but has encountered resistance from some members of the public concerned about commercializing a historic location, even if Apple's store would simply be replacing a TGI Fridays. The company's architects did tone down the original design, which could help it blend into surroundings.
June 28, 2018
Apple Cotai Central in Macau, opening June 29, has been revealed has having a millimeter-thick stone "curtain," as well as a bamboo grove.
June 27, 2018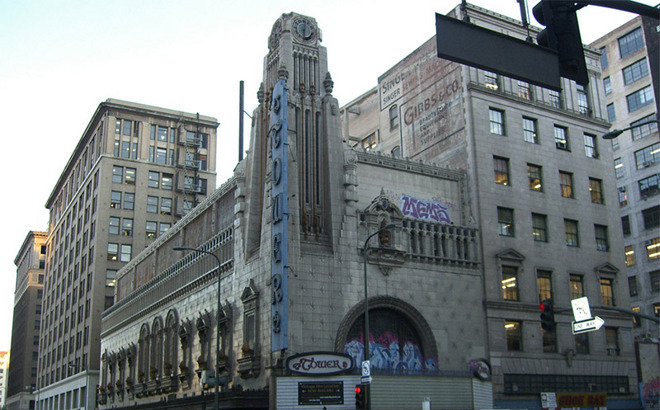 A DTLA Rising report resuscitated rumors that Apple may take over Los Angeles' famous Tower Theater. Tenants in exterior stalls have been told to vacate by the end of June, and one source claims that Apple is hoping to "encase the entire Tower Theater in a glass cube," though more likely is a restoration given the Tower Theater's historical significance.
June 26, 2018
Apple has confirmed that its updated University Village store in Seattle will open at 9:30 a.m. local time on June 30. Replacing the old outlet, the new one has more interior space including a Forum and video wall for hosting Today at Apple events. The space also focuses on the use of natural light, through both the facade and a skylight.
The company's renovated Palo Alto, Calif. location on University Avenue is set to reopen on the same day at 10 a.m. Pacific time.
June 25, 2018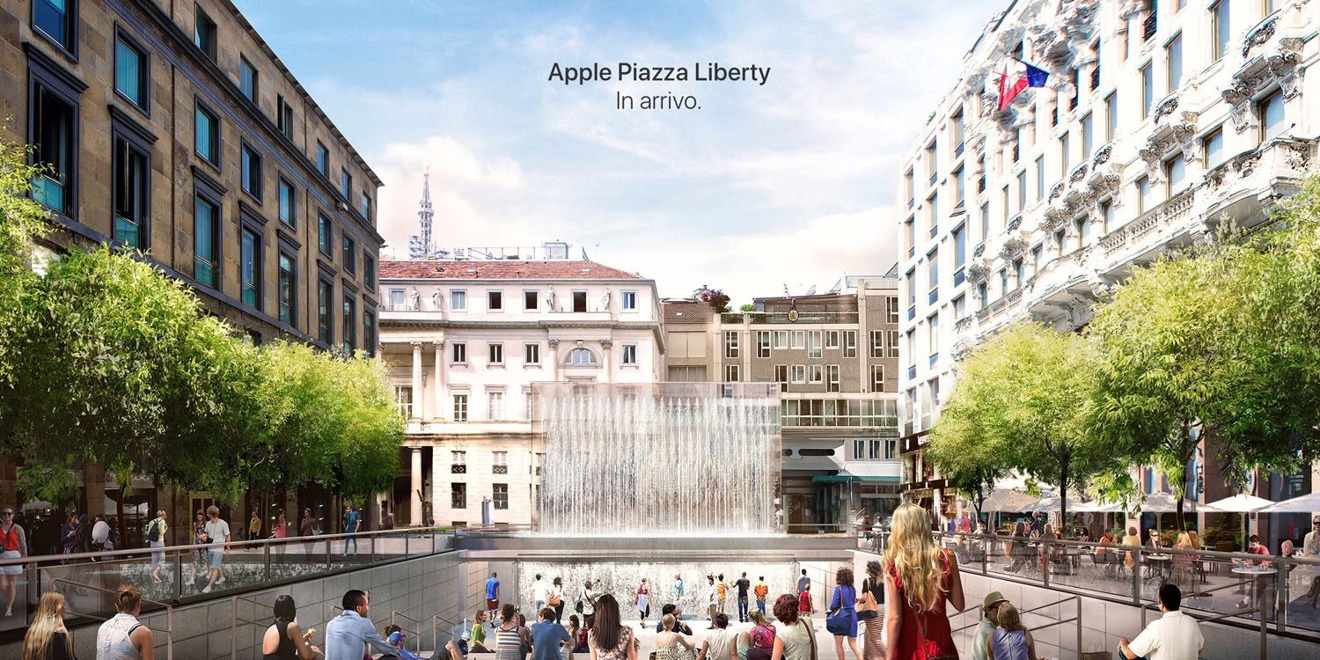 Apple's upcoming flagship in Milan, Italy should open in late July, possibly as soon as July 18 according to Corriere della Sera, though the company doesn't typically open stores midweek. The shop was allegedly going to open in December 2017, then this February, but was delayed by the discovery of asbestos in walls and pipes.
June 13, 2018
June 12, 2018
The company confirmed that its second store in Macau, Apple Cotai Central, will throw open its doors on June 29. Its name stems from the nearby Sands Cotai Central casino resort.
June 11, 2018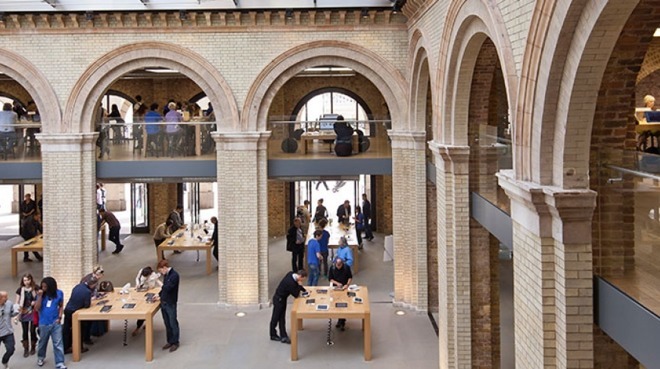 Two of Apple's bigger stores — Covent Garden in London, and Wangfujing in Beijing — were announced as closing for renovations later in the month.
May 31, 2018
May 25, 2018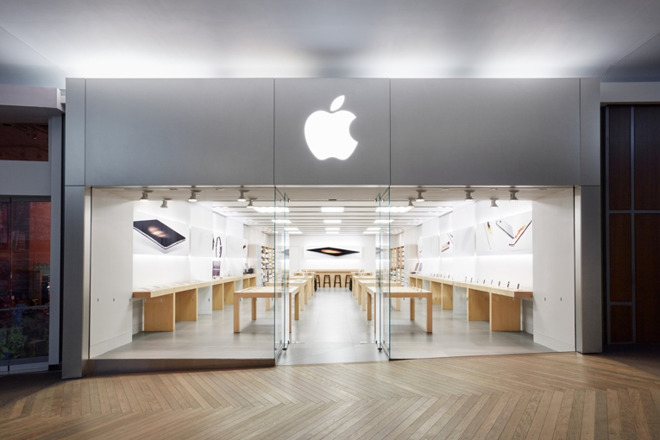 In a rare announcement, Apple said it would permanently shutter its Pier store in Atlantic City, N.J. without opening a replacement. 52 people were affected, forced to either find new jobs with Apple or a different employer.
May 13, 2018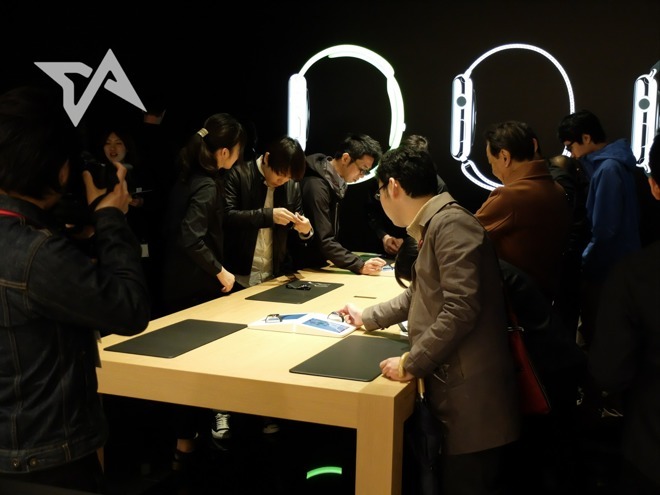 May 4, 2018
Apple's first flagship-level store for Latin America is reportedly under construction at Antara Fashion Hall in Ciudad de Mexico's (CDMX) upscale Polanco district. It should be a single-story structure, but have the trappings of any flagship, such as a boardroom for business clients.
Apr. 29, 2018
Apr. 26
Apple was sued for $15,000 over injuries caused during an "active shooter" drill at the Florida Mall Apple Store.
Apr. 12, 2018
Apr. 7, 2018
Apple Shinjuku opened in the Japanese capital of Tokyo, not far from Shinjuku Station.
Apr. 2, 2018
March 24, 2018
March 20, 2018
The landlord behind Apple's flagship Michigan Avenue store in Chicago put the space up for sale, though Apple itself is liable to stay put.
March 6, 2018
A New Orleans police officer was accused of stealing AirPods from Apple Lakeside Shopping Center — while still in uniform.
Feb. 24, 2018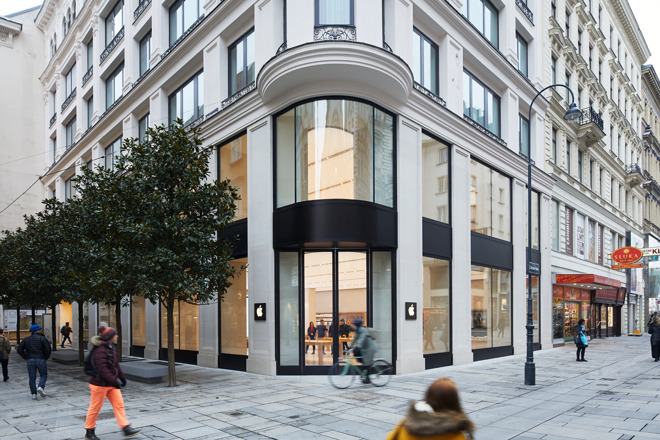 Feb. 5, 2018
Feb 2, 2018
Jan. 29, 2018
Jan. 27, 2018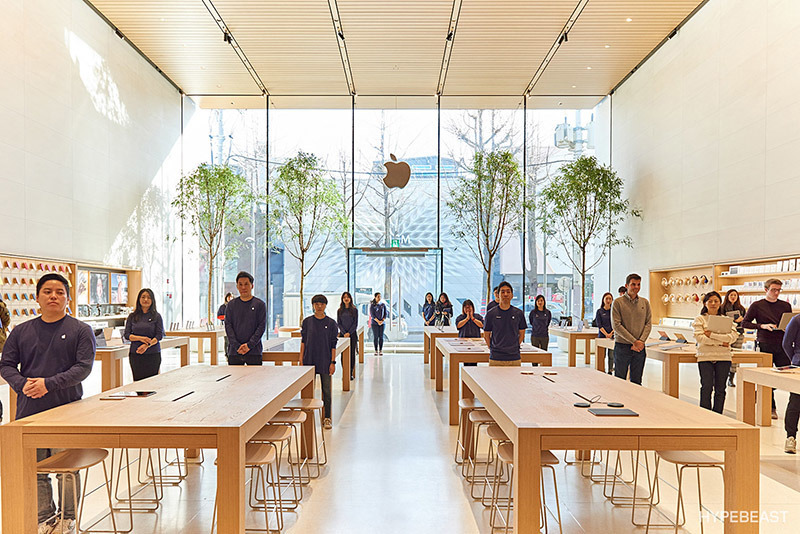 Jan. 19, 2018
Jan. 11, 2018
The company's discounted battery replacement program — started in the wake of Apple admitting it was throttling iPhones — caused a rush on supplies, particularly for the iPhone 6 Plus.
Jan. 10, 2018
Jan. 9, 2018
Jan. 4, 2018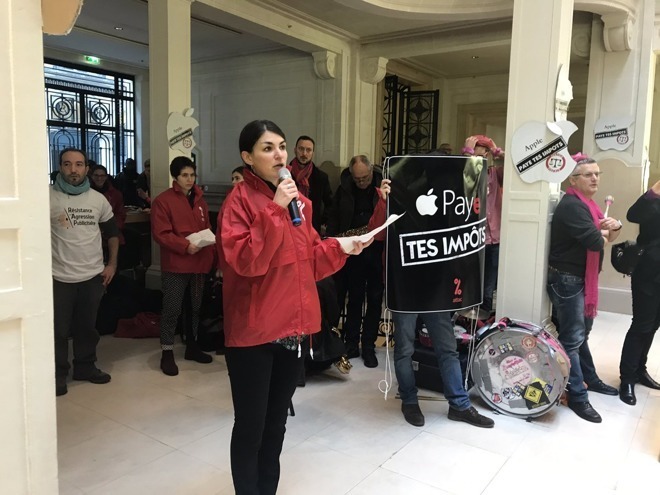 Apple sued the activist organization Attac for staging protests at its French stores, claiming the group "put the security of our customers and employees at risk." Attac has accused Apple of exploiting tax loopholes at the expense of the public, depriving social services of billions in funding.
Rumors meanwhile emerged of a new store in Toronto, Canada at the corner of Yonge and Bloor, not far from Queen's Park and the Royal Ontario Museum.
Jan. 3, 2018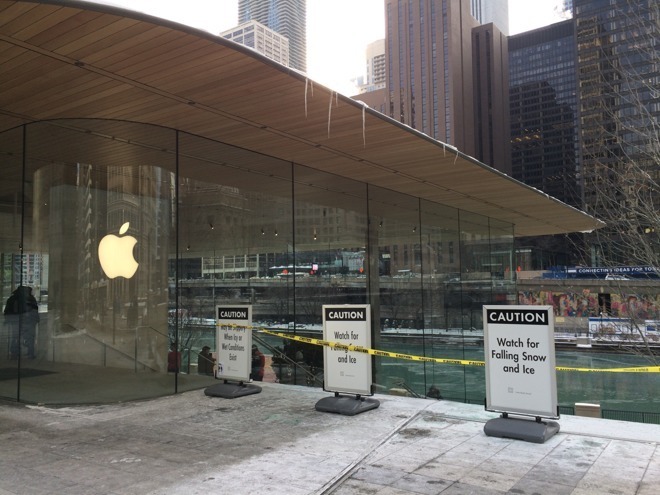 An embarrassment for the company's high-profile Michigan Avenue store in Chicago was the need to rope off the surrounding area to cope with falling ice and snow. While some initially blamed poor architecture, failing to account for Chicago winters, Apple insisted that the problem was a result of glitches in the rooftop heating system.
.